Olympic torch relay: Excitement for journey across Wales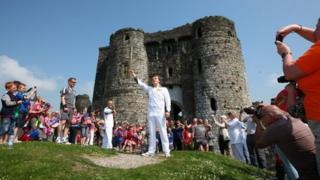 As the Olympic torch relay heads to more rural areas of Wales, the national excitement it has generated so far shows no signs of abating.
About 10,000 turned out to join the early-morning carnival atmosphere at the relay start at Bracelet Bay near Swansea on Sunday.
And thousands more have thronged the streets of towns and villages of west Wales as the relay moved onto Aberystwyth.
One woman Sharon Evans, from Llanelli, said:"It was a once in a lifetime chance to see the torch. "
Tens of thousands crowded the streets of Carmarthen waiting in the May sunshine for an hour before the flame arrived at around noon.
Street party
Children waved flags and balloons were handed out. The council even arranged entertainment with a giant trampoline to keep the youngsters amused.
About 20,000 people gathered to cheer the flame through Havefordest.
It will reach the coastal town of Fishguard by mid afternoon and police are estimating about 5,000 people will be there to welcome the Olympic torch relay.
One of the South Wales Police team escort said it was "like a massive street party everywhere we go".
The once-in-a lifetime event appears to be getting everybody excited.
Carnival atmosphere
David Williams from Garrnant, near Ammanford, brought his two sons Dylan and Iwan to see the relay. He said: "The boys wanted to see it but I enjoyed it too."
Letitia Bethell, who is originally from from Mexico but now lives in Llanelli, described it as "amazing". She said she enjoyed the carnival atmosphere.
Poppy Burrows, whose mother Karen carried the torch, said: "I was so excited I ran down the street after her as she carried the flame."
But some people have expressed disappointment that there were not more Welsh dragon flags flying alongside the Union Jacks.
Sylvia John, from Morfa in the Amman Valley, said she had a great time but said she was disappointed there wasn not a Welsh dragon flying from the town hall.
Janet Bowen from Ammanford, who went to Swansea to catch a glimpse of the relay said: "I wish they had given out the Welsh flag and not just the union jack," she said.
"We thought they would be considerate enough to give some out because it's the flag of Wales and it's nicer than the union jack."
And Eifion Hughes, 65, from Lampeter, said he would have liked to have seen the torch visit the Carmarthenshire town.
"If it's coming to Aberaeon and Aberystwyth I would've expected it to come to Lampeter.
"We're a bit disappointed."
Once-in-a-lifetime
Pembrokeshire council chairman Peter Morgan told BBC Wales it was fantastic to have the Olympic torch relay visit.
"Especially during these economic times people haven't got a lot to be happy about.
"We're delighted to have the torch here - it's just unfortunate we couldn't bring it around our fantastic coastline."
Organisers of the relay have said they have been amazed at the crowds and their enthusiasm.
BBC Wales reporter Kevin Leonard, who is following the relay as it snakes across Wales, said he had seen as much enthusiasm in the rural communities it has visited as in the larger towns and cities.
"People keep saying to me that this is a once-in-a-lifetime opportunity, and that they wanted to bring their children to see it," he said.