Food hygiene 'scores on the doors' rating plan extended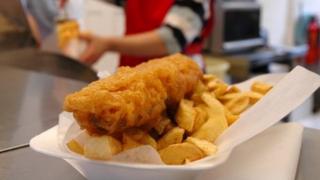 Firms supplying restaurants, takeaways and canteens will be included in a "scores on the doors" hygiene scheme, Wales' health minister has announced.
The Welsh Government's proposals will see cooked food outlets compelled to display a 0-5 rating on their premises.
The scheme has been widened to include businesses which prepare food but do not sell it directly to consumers.
The proposals follow E. coli outbreaks in Wales which led to calls for a tougher stance.
The expanded scheme, announced by Wales' Health Minister Lesley Griffiths, would take in manufacturers, wholesalers and transporters, which are currently not rated under the Food Standards Agency scheme.
Ms Griffiths said: "Food hygiene is essential for the protection of public health.
"The rating scheme will help drive up standards and benefit both consumers and businesses.
"The scheme will enable consumers to make a more informed choice about where they choose to eat or shop for food, while good food hygiene means a higher rating which is good for business."
Hygiene ratings
Bridgend butcher William Tudor was jailed for a year for food safety offences surrounding a fatal E. coli outbreak in south Wales in 2005.
Under the new proposals, businesses such as this which supply prepared food and ingredients to other retailers would also be required to display their food hygiene ratings.
The Welsh government says that an additional 2,500 businesses will be covered as a result, taking the total number in Wales to around 32,500.
An evaluation undertaken in 2011 on behalf of the FSA found that only 31% of food businesses were voluntarily displaying their food hygiene rating.
The Welsh government anticipates the new statutory scheme will be in place in November 2013.
It would make Wales the first place in the UK where it is compulsory to display food hygiene ratings.
The health spokesman for the Conservative party Darren Millar AM, said: "We welcome this major step forward in improving food hygiene standards in Wales.
'Empower consumers'
"Displaying visible hygiene ratings on the premises gives consumers clear information to make an informed decision about where they dine or purchase food.
"Giving customers access to information about compliance with hygiene regulations is critical in driving up standards and rooting out bad practice.
"Welsh Conservatives have long campaigned for a hygiene ratings scheme to empower consumers.
"I hope Welsh ministers will engage effectively with food businesses and consumers over the implementation of this scheme and examine ways of making additional information on hygiene inspections available to the public."
Welsh Lib Dems leader Kirsty Williams said: "We welcome the introduction of the Food Hygiene Rating Bill and we hope that it will receive cross-party support.
"The people of Wales have a right to enjoy food that has been prepared in clean and hygienic premises.
"Scores on the Doors is something we called for in our manifesto last year and we will work with the Welsh government to implement this policy.
"The legislation must work to ensure high standards of hygiene and cleanliness for the Welsh public but it must also be legislation that is fair to Welsh food businesses."