Cardiff Airport: Task force set up by Welsh government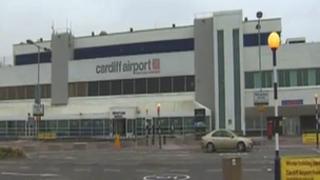 Details of a task force to help Cardiff Airport's 'competitive position' set up by First Minister Carwyn Jones have been unveiled.
It follows the airport's recent performance after a drop of 800,000 passengers using the airport since its peak of two million in 2007.
Mr Jones has called on the airport's owners Abertis to invest in its future or put it up for sale.
But the Spanish firm said it has no plans to sell.
The Conservatives said Mr Jones's task force was "too little too late".
Mr Jones announced plans for the task force last month, but released more details on Tuesday.
He has been involved in a war of words with Abertis over the airport's performance, and two weeks ago the airport's managing director Patrick Duffy left his post.
The first minister has also criticised Abertis for delays in a £26m investment plan and has said the airport gives a bad impression of Wales and is falling behind its rivals.
Announcing more details about the airport task force, Mr Jones said: "Cardiff Airport is integral to the fabric of our national infrastructure.
"I am committed to making Cardiff Airport realise its true potential as a modern, competitive, thriving and commercially successful airport, which is a key economic driver and source of pride for the people of Wales.
"This is why, last month, I announced the establishment of a task force to look at how we can maximise its potential."
The first minister said the task force aimed to address how the competitive position of Cardiff Airport could be improved through collaboration between its owners, the Welsh government and the wider public sector and business community.
'Damage its reputation'
"Whilst the commercial day-to-day operation of Cardiff Airport is the responsibility of its operating company, the task force will act as an agent for change alongside Cardiff Airport, providing better synergies, joint support and co-ordinated use of resources to achieve shared outcomes," Mr Jones added.
But the move has been branded as "too little too late" by Conservative AM Byron Davies, shadow minister for transport and regeneration.
"The first minister has idly watched a decline in passenger numbers from Cardiff Airport for years and taken every opportunity to damage its reputation as Wales' only international airport," he said.
"His offer of chairing a task force is too little, too late."
Mr Davies said having spent months running down the airport, it might be difficult for Mr Jones to work "constructively with the company and other leading interest groups".