Queen's jubilee scroll gift from Welsh assembly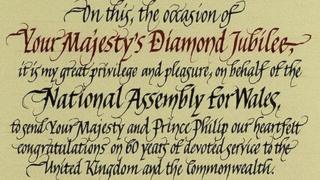 A specially commissioned scroll has been sent to the Queen to mark her Diamond Jubilee from the National Assembly for Wales.
It is a message from Presiding Officer Rosemary Butler on behalf of the assembly congratulating the Queen on 60 years of "devoted service".
It was designed and created by Carmarthen calligrapher and stone mason Ieuan Rees.
A copy of the bilingual scroll will be on display at the Senedd until 15 June.
"It is fitting that the people of Wales recognise the enormous amount of work that the Queen has done for Wales in her 60 years on the throne," said Mrs Butler.
"I know that communities across Wales are doing various things to mark this milestone for our monarch.
"I believe it is right, that on behalf of everyone in Wales, the National Assembly for Wales marks this Jubilee."
Carmarthen-based calligrapher Mr Rees graduated from the Royal College of Art in 1967 and has worked as an artist and craftsman for over 40 years.
"The design, while intentionally simple and dignified, has been crafted to highlight the sincerity of the message," he said.
A full size version of the scroll can be viewed via the assembly's page on the Flickr photograph sharing website.