North Wales trauma patient shake-up 'will improve care'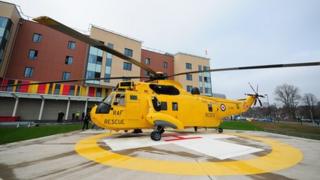 Critically-hurt patients in north Wales needing specialist trauma care are to be taken to hospital in Stoke following a shake-up in health services.
About 40 patients a year need trauma care currently provided at specialist centres run by hospitals in Liverpool.
Now they are to be flown by emergency crews to the new £400m University Hospital North Staffs.
Health watchdogs say the change is an improvement in patient care as the unit is better equipped.
However, they point out that the move will mean some patients' relatives will have to travel up to an extra 30 minutes compared with visiting Liverpool.
Betsi Cadwaladr University Health Board (BCUHB), which commissions hospital services on behalf of patients in north Wales, says the switch will save £240,000, but it says the cost is not the motivation.
The boards says the new hospital in Stoke is now better equipped and it will take services in Liverpool a few years to reach the same standard.
Patient groups and medics, including air ambulance staff and RAF rescue crews, have been involved in the decision-making process.
'No financial drive'
Health watchdogs from the Betsi Cadwaladr Community Health Council (BCCHC) were also involved and have given their backing.
"There is no financial drive," said BCCHC chief officer Pat Billingham.
"The priority has been [to find] the best place to provide the best care for patients."
Regional Networks for Major Trauma were set up in England after recommendations in a NHS Clinical Advisory Group report in September 2010, with one provided at Walton, Merseyside, and another in Stoke.
The care patients need includes the management of complex orthopaedic trauma, traumatic brain injury, cardiothoracic injury and spinal injury.
It excludes burn injury patients, who will continue to go to Whiston Hospital, Liverpool, and children treated at nearby Alder Hey.
In Stoke, the new hospital on the old North Staffs City General site includes expertise in resuscitation and specialist surgery.
The hospital's emergency centre has 10 consultants and more than 200 staff. The main emergency treatment area has 31 cubicles, 14 new theatres and 40 critical care beds.
Patients will then be moved to other trauma units when they no longer require critical care.