Call to better target art funding as cuts in public funding affects Wales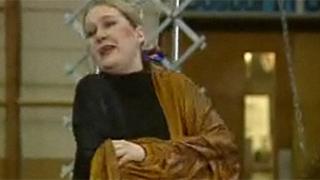 Concern about the impact of cuts to arts funding in Wales has been expressed by an assembly task group.
It has heard from a number of arts organisations from across Wales which say cuts in public funding is affecting the numbers taking part, and the whole existence of some groups.
Group member Rhodri Glyn Thomas AM said it was having a particular impact on minority groups.
A report on the groups' findings will be published in a few weeks.
The task and finish group was set up by the Communities, Equality and Local Government Committee.
"What we have clearly seen is that smaller companies providing for minorities are having a tougher time dealing with the basic changes in their funding and that the financial pressure is leading to situations where the existence and viability of those companies are under threat," said Mr Thomas in an interview for BBC Wales' CF99 programme.
In March the BBC learned that five arts groups had closed in the year since 32 organisations had funding stopped by the Arts Council of Wales.
'Attention'
Gwent Theatre, Theatr Powys, Community Dance Wales, Welsh Independent Dance and the Cardiff Bay Arts Trust folded after their last grants ran out.
At the time the Arts Council of Wales (ACW) said difficult decisions had to be made.
Mr Thomas suggested that in order to deal with the situation the assembly group would be calling on the Arts Council to better target their funding.
"If we could move to a three year strategy, that would definitely help.
"The minister could also look at the remit letter to give more direction to the work of the Arts Council," he said.
Arts groups are being made to look for alternative sources of funding, and some have formed successful partnerships with the private sector.
The choir Only Boys Aloud has private sponsorship but its musical director Tim Rhys Evans said it was not so easy for smaller groups.
"We've gained a lot of attention through Britain's Got Talent, but we're finding it hard to raise more money with a high profile, so I really feel for the smaller projects," he said.