Ancient Welsh trees need more protection, says Coed Cadw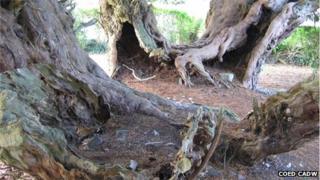 As two new woods are created in Wales for the Diamond Jubilee, conservationists say more needs to be done to protect its most ancient trees.
Bluestone in Pembrokeshire and Ffos Las racecourse in Carmarthenshire are to plant 60-acre Diamond Woods.
But Coed Cadw, the Woodland Trust in Wales, also wants ministers to strengthen power to preserve and list existing "gnarled and wrinkly" trees.
The Welsh government is consulting on a planned new environmental body.
The 60th anniversary of the Queen's accession is being marked by the creation of 60 commemorative woodlands across the UK, including two in Wales.
Bluestone National Park Resort is to plant 35,000 trees at its 500-acre estate near Canaston Bridge, Pembrokeshire.
Work is also under way at Ffos Las racecourse, Trimsaran for the planting of around 45,000 young trees, mostly birch, ash and rowan.
The Woodland Trust says its separate Jubilee Woods project is set to provide more than 50,000 saplings to be planted by more than 800 schools in Wales.
But it wants the planned new single environmental body to draw up a database of trees whose heritage already stretches back hundreds or thousands of years.
The charity said the Welsh government's decision to replace the Environment Agency, Countryside Council and Forestry Commission in Wales with a single organisation was an opportunity to boost protection for hundreds of rare and ancient trees.
It has launched a petition calling for Wales' new environmental body to have a duty to help - with cash where necessary - people who have ancient, veteran and heritage trees to look after.
It also says Tree Preservation Order rules need to be made "fully fit for purpose" with "meaningful" fines for developers who cut down rare or ancient trees for valuable building land.
Rory Francis, of Coed Cadw, said castles and listed buildings had more protection than many trees that were hundreds if not thousands of years old.
He said: "If you owned and important building that was listed, you wouldn't be able to change it or knock it down without permission, but you would be able to access funds to carry out necessary changes.
"There simply isn't anything like that for trees.
"With the powers of the three organisations coming together, this presents an opportunity to have the conservation of ancient trees and the assistance and service of their owners as one of the functions of the new body."
'Protecting diversity'
Mr Francis said the law allowing open-ended fines for people who chop down a tree in contravention of a preservation order was rarely used, with most prosecutions taking place under regulations that imposed a maximum fine of only £2,500.
He said this needed to be changed to protect old and often isolated trees that find themselves in the way of a ruthless developer.
He said: "If, in cutting down a tree or trees, a landowner has managed to free up a building plot that was worth millions, it should be possible for a meaningful fine to be imposed. It should be up to the court."
A Welsh government spokesperson said: "The Welsh government's forestry policy is set out in Woodlands for Wales and emphasises the importance of both protecting the diversity of woodlands in Wales and increasing the overall amount of woodland.
"We will expect the single body to carry forward these policies once it comes into being and we will consider the points raised by Coed Cadw and others as we develop our final legislative proposals."