Diamond Jubilee: Events held across Wales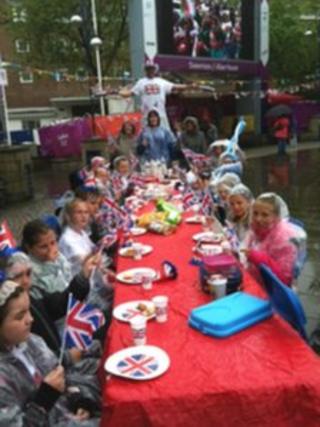 Hundreds of events to mark the Queen's Diamond Jubilee in Wales have got under way.
More than 300 applications were made for street closures across Wales - 100 more than for last year's Royal wedding of Prince William and Kate Middleton and there are community events planned over the bank holiday weekend.
However bad weather conditions has forced some events to be postponed.
Some anti-monarchist events are also planned around the region.
Miss Wales, Sophie Moulds, from Ferndale in Rhondda Cynon Taf, is taking part in the Diamond Jubilee river pageant.
Nineteen-year-old Ms Moulds was invited on board Millennium of London by the Miss World Organisation.
Accompanying her is special guest, 83-year-old Barbara Slade from Pontyclun, who has also been given a special invitation from Miss World.
Ahead of the river pageant, Ms Moulds said: "It's a privilege and a pleasure to be asked to take part in this special day.
"I am particularly happy to be having Barbara by my side who remembers the Queen's coronation really well."
Ms Slade was invited to represent the older generation of Wales who have followed the Queen throughout her reign. Ms Slade is a retired nurse and an active member of the Women's Institute.
The 1,000 strong flotilla, led by The Queen aboard a royal barge, features a mix of private as well as commercially owned historic and modern boats.
In Rhondda Cynon Taf, communities are expected to celebrate at 58 parties while a castle picnic and a proms in the park is being staged at Powys castle near Welshpool on Monday.
In Carmarthenshire, a fireworks display will be held at the Prince Charles' Welsh home, Llwynywermod, near Myddfai.
And a Big Lunch event was held in Five Roads near Llanelli.
But the Trelawnyd carnival event in Flintshire has been postponed because of the weather on Sunday and it will now be staged on Monday at 13:00 BST.
The village of Rhosneigr on Anglesey, close to the home of the Duke and Duchess of Cambridge, is staging a four-day Diamond Jubilee celebration like one held there in 1953 to mark the Queen's coronation.
There was a craft exhibition in the village hall on Saturday with entertainment in the evening, but on Sunday a planned beach party was rained off.
However, hundreds of people gathered for a Big Jubilee Lunch event at the village hall, and were serenaded by a local band.
Among the people celebrating was Penny Stoneman who remembers the village's coronation celebrations in 1953, when a golden coach paraded through the streets.
She said Sunday's celebrations had brought mixed emotions as she remembered the years that had gone by.
Later, there might be a flypast from 22 Squadron based at RAF Valley, where Prince William is an RAF search and rescue helicopter pilot.
Members of the prince's flight and maintenance crews live in the area.
Despite the poor weather conditions, people at Swansea's Big Lunch event remained in high spirits.
A Big Jubilee Lunch started in Cardiff at midday on Sunday in St Mary Street, and live footage of the Thames Diamond Jubilee Pageant is being screened.
Revellers braved the rain to raise a glass in celebration of the Queen's 60-year reign.
A steady flow of tourists and locals carrying picnic lunches arrived slowly on the brightly decorated street scene.
Ceri Jones, 31, from Neath, got in the party atmosphere by offering sausages rolls to more than a dozen friends at the Big Lunch.
"It's a shame about the rain but it won't change our plans at all. We intend to make this an occasion we won't forget," she said.
Organiser Emma Jones, 31, from Cathays, Cardiff, said the annual lunch party had been switched from the May Day bank holiday purposely to mark the Jubilee.
"We do this every year and it was my turn to host it this year so we just went for the jubilee in Cardiff as a theme.
"We have friends here from all over the place, Cardiff, Neath and as far away as Holland."
Meryn den Arend, 38, from Arnhem, in the Netherlands, said: "We get together like this every year. I drove over last night and we are really going to party over the next few days. Rule Britannia," he said.
Elsewhere in the Welsh capital, the Wales Millennium Centre is hosting a summer fair for all families and visitors to Cardiff Bay.
Starting on Sunday, the three-day Taste Summer event features craft stalls, live performances, craft workshops, free children's activities and funfair games and afternoon tea.
In Powys, a street party in being held in Crickhowell, while at Brecon Cathedral there will be a choral evensong later featuring such music as Handel's Zadok the Priest.
Pembroke Castle is playing host to hundreds of Jubilee revellers over the full four-day royal celebration.
"We've got circus workshops, magicians, face paining, bouncy castles, balloon modelling, and a big screen set up in the grounds," said Jon Williams, castle manager.
But not everyone will be hanging out the bunting for the jubilee. Anti-monarchist group Republic, which wants to replace the Queen with a democratically-elected head of state, says its members will stage demonstrations across Wales over the weekend.
See all the latest Diamond Jubilee news and features at the BBC's Diamond Jubilee site .