Stillbirths: All Wales Perinatal Survey urges inquiry on high rate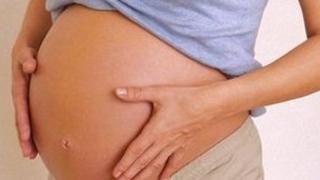 A confidential inquiry is needed to try to find out why Wales has the highest stillbirth rate in Europe, according to health experts.
About 200 babies are stillborn every year in Wales, a figure which the All Wales Perinatal Survey says has hardly changed over the past 17 years.
In evidence to an assembly committee, it says the reasons for stillbirths need to be explored more thoroughly.
The Welsh government said a stillbirths working group had been set up.
The purpose of a confidential inquiry is to detect areas of deficiency in clinical practice and devise recommendations to resolve them.
The All Wales Perinatal Survey (AWPS), which is funded by the Welsh government and monitors stillbirths in Wales, made the call in written evidence to the assembly's health and social care committee, which is holding a separate one-day inquiry into the issue later this summer.
The AWPS said that a detailed study of stillbirths was required to try to understand the reasons they happen and identify risk factors that can be addressed to prevent them.
"A confidential inquiry focused on stillbirths would enable us to investigate stillbirths, to establish whether anything could have been done to prevent them through better clinical care," it said.
"This process will allow the details of each stillbirth to be reviewed by a team of multidisciplinary experts (obstetricians, midwives, public health professionals and pathologists) with the aim of gaining insights into the main causes of stillbirth, to identify avoidable causes and to recommend improvements in clinical care and service provision.
"A confidential inquiry process will provide a mechanism for understanding why the stillbirth rate in Wales has not decreased."
In its evidence, AWPS said that the stillbirth rate - which is between 4.5 and five per 1,000 babies - has not changed drastically since 1993.
In Wales, the stillbirth rate in 2010 was 5.2 per 1000 births, in England 5.1, in Scotland 4.9, and in Northern Ireland 4.1.
'Relatively ignored'
It is known that smoking, obesity and maternal age are all factors in stillbirth but Sands, the stillbirth and neonatal death charity, said more research is needed.
In its evidence to the committee, it said: "As a cause of death for children, stillbirths are 10 times more common than cot death; 40 times more common than child road deaths; 80 times more common than childhood meningitis.
"While rightly there are strenuous efforts to reduce these deaths, stillbirths, which are far more common, remain relatively ignored.
"Similar high-income countries have lower stillbirth rates: the UK ranks 33rd out of 35 similar nations in a recent Lancet analysis.
"What is more worrying still, while other countries are reducing their stillbirth rates, the same is not true in both Wales and England where rates have not changed for more than a decade."
A Welsh government spokesman said a National Stillbirth Working Group had been established as a result of a maternity strategy.
He said it was trying to gather as much information about stillbirths as possible to increase knowledge.
"One of the difficulties is that the autopsy rate after stillbirth is low, understandably so at such a distressing time (only 39% of all perinatal deaths in 2010) so that contributes to 41.7% of stillbirths remaining unexplained," he added.
"The stillbirths working group is addressing these issues with terms of reference around increasing clinician skills around asking for parental consent for autopsy, as well as addressing avoidable factors in both lifestyle and management of pregnancy, monitoring of foetal growth and movements, and management of delivery."