Soldiers Cpl Michael Thacker and Pte Gregg Stone are repatriated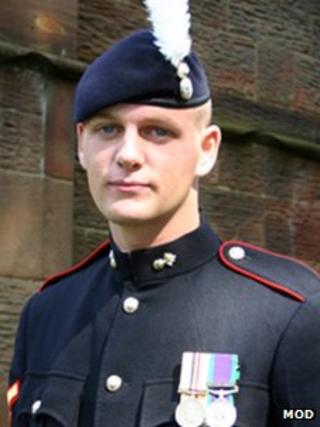 The bodies of two soldiers killed in Afghanistan have been flown back to the UK.
Cpl Michael John Thacker, from 1st Battalion, The Royal Welsh (The Royal Welch Fusiliers), was shot while on duty at an observation post.
The 27-year-old went to Fairwater High School in Cwmbran, Torfaen, and leaves a wife and two-year-old daughter.
He was repatriated alongside Pte Gregg Thomas Stone, from 3rd Battalion, the Yorkshire Regiment.
Cpl Thacker received immediate medical attention after being shot at observation post Tir in the Helmand district of Nahr-e Saraj on 1 June.
He was evacuated from the scene by helicopter but died from his injuries.
Following his death, his wife Catherine, who he lived with in Coventry, described him as the "love of my life".
"He was an amazing husband and father who will always be remembered as a funny, loving and kind man," she said.
"Everyone who met Mike instantly liked him and through time came to love him."
His younger brother L/Cpl Matthew Thacker, who also served with the battalion, added: "We were more than brothers, we were best friends and words cannot express how much he will be missed.
"He died doing the job that we Thacker brothers love. He is a true hero."
Third tour of duty
Cpl Thacker was on his third tour of duty to Afghanistan after joining 1st Battalion, The Royal Welch Fusiliers in 2004.
He was also deployed to Iraq as part of Operation Telic 4 and to South Armagh in Northern Ireland in 2005. In 2006 his battalion merged to form the 1st Battalion, The Royal Welsh.
Lt Col Stephen Webb MC, Commanding Officer, 1st Battalion The Royal Welsh (The Royal Welch Fusiliers), said: "He was a soldier's soldier - a larger than life character, highly competent, fiercely loyal and hugely proud of his family.
"He was mischievous, fun, incredibly amiable and with a grin that would brighten the darkest of days.
"Recently promoted, he had a bright future in Fire Support Company ahead of him. He was a professional soldier and a natural leader.
"He was deeply committed to both his role on Operation Herrick and to his colleagues."
Meanwhile, 20-year-old Pte Gregg Thomas Stone, from Hull, was killed on Sunday as he took part in an operation to rescue a policeman from insurgents.
The soldier, had been in Afghanistan for less than a month. His wife is expecting their first child, his commanding officer said.
His wife, Samantha, said Pte Stone was a "brilliant husband" who loved his family.
"He was always the one to want to make us laugh - he always cheered everyone up. He was proud to be a soldier and for what he had achieved in his work.
"He would also want me to mention his dog Benji, who he loved to bits."
The soldier's mother Angela, father Robert, brothers Kallum, Jamie and Graeme, and sisters Rosie and Jennie, said he would "always be a true hero in all our hearts".
"Words cannot begin to describe this great loss, and we are exceptionally proud of Gregg for everything he was and still is."
The plane carrying their coffins landed at RAF Brize Norton, Oxfordshire, on Thursday.