Naked bike ride held across Cardiff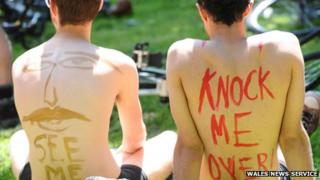 Organisers of an annual naked bike ride in Cardiff pressed ahead with the event despite the council not giving them permission to use its parks.
The fifth Cardiff World Naked Bike Ride was part of organised protests over the dangers cyclists face on the road.
Organisers were estimating around 100 cyclists for Saturday's nine-mile ride.
In a statement, Cardiff council said it did "not give formal permission for nudity in parks".
South Wales Police said they would be patrolling at the start and end of the ride, as expected for any public event.
One of the organisers Nick Wysoczanskyj, 32, from Aberdare said that police had provided a cycling escort during the four previous rides, but responsibility for managing the 2012 event had passed to the council.
He said that despite weeks of negotiations with officials, he had been unable to secure an agreement to include a section in a park to allow the off-road participation of a disabled rider.
'Positive response'
Finishing the ride at Sophia Gardens also allowed the riders to congregate without the risks associated with stopping at the edge of a main road, he said.
"I'm making plans to go to the parks whatever," Mr Wysoczanskyj said beforehand.
"We have used them for three years now, we haven't had a complaint.
"We have had a very positive response from the public and this has been passed on from the police.
"I don't want anyone who chooses to take part in the protest to suffer more risk than they have to."
A Cardiff council spokesperson said: "Although staff would only intervene in the world public bike ride if a complaint is made by a member of the public, we would neither facilitate the event nor condone it."