Welsh Rugby Union in £3.5m grassroots funding boost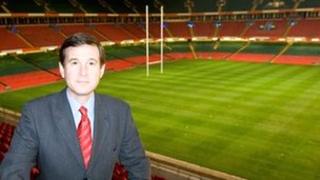 Grassroots rugby is to get a £3.5m boost from the Welsh Rugby Union (WRU).
Cash is being injected into a number of schemes aimed at improving rugby standards at community, school and college level, said the WRU.
It will also help enhance rugby club facilities across Wales, including the Millennium Stadium in Cardiff.
The debt on the stadium has also been cut from £70m to £26m, with the possibility of the WRU becoming debt-free by 2021.
WRU Group chief executive Roger Lewis said it has had a "powerful financial performance" this year.
The WRU announced:
£500,000 to encourage clubs to improve their infrastructures, with clubs able to apply for grants of up to £50,000 each
An array of funding packages for the schools system to pay for teacher courses and player skills curricula
Funding for a new Freshers League and other college rugby tournaments
£200,000 to develop schools and college rugby
A programme to refurbish and modernise the 122 hospitality boxes on level 5 of the Millennium Stadium
Rugby memorabilia to go on show to supporters and guided tour visitors
Archive broadcast footage of Wales international rugby matches to be digitised.
Mr Lewis said the investment was aimed at getting more people involved in the game in the face of mounting competition from other sports and activities.
'Foundations and future'
"Our focus with this new funding is firmly targeted at the foundations and the future of rugby in Wales," he said.
"We want to attract and retain players of all ages, as well as coaches, match officials, volunteers and supporters.
"We also want make certain that our facilities in our clubs and in our Millennium Stadium are in the best condition possible."
Mr Lewis added: "We are able to immediately release such significant amounts of new money into rugby projects across Wales due to our powerful financial performance this year.
The WRU said it had outperformed all other rugby unions in the world by achieving a compound annual growth rate of 13.4% over a five-year period.
It said in the past six years turnover had increased by about 24%, and its distribution of funding into the game across the same period by 30%.