Wales newborn babies screened for rare condition MCADD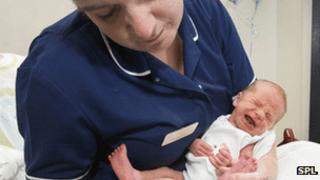 Parents of newborn babies in Wales are for the first time being offered tests for a rare genetic condition that can lead to death.
Babies can now be screened for Medium chain acyl-CoA dehydrogenase deficiency (MCADD), which means babies cannot break down fat to make energy.
It is an inherited condition that can lead to serious illness or even death.
The test is already available in other parts of the UK.
It means the condition can be identified early and the child's diet can be adjusted accordingly. Parents can also receive specialist advice.
Welsh government-funded newborn bloodspot screening is carried out by a midwife in the first five to eight days of a baby's life.
It is sometimes called the heel prick test because the drops of blood are collected from the baby's heel.
Newborn babies are already screened for congenital hypothyroidism, cystic fibrosis and phenylketonuria.
A leaflet explaining newborn bloodspot screening is also being released this month.
Dr Sharon Hillier, deputy director of the screening division of Public Health Wales, said: "We are pleased to have developed a new information leaflet for parents and a new website with information for both parents and health professionals.
"The introduction of MCADD screening puts Wales in line with other UK countries where this test is already available."