DVLA Swansea staff in walkout over proposed cuts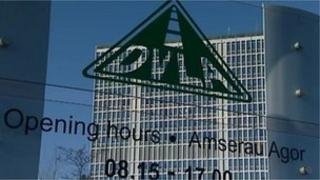 More than 3,000 Driver and Vehicle Licensing Agency (DVLA) staff in Swansea are to hold a two-hour strike as part of a month of action.
It comes a week after a similar demonstration by Cardiff and Bangor DVLA staff and hours after a strike by coastguard officers in Wales.
The Public and Commercial Services (PCS) union is protesting over planned office closures, affecting 1,200 jobs.
The Department for Transport has said it is disappointed at the strike.
PCS says its 3,200 members at DVLA's head office will leave work two hours before the end of their shift on Friday.
DVLA employs around 5,000 people at its Swansea headquarters and is one of the largest employers in the city.
A notice on the DVLA's website advises of disruption and a reduced service will operate from noon, with possible longer waiting times for people trying to contact the agency by phone.
Meanwhile, union members at the three coastguard offices in Wales, Swansea, Milford Haven and Holyhead, held an early morning strike between 03:00 BST and 04:00 BST on Friday.
The union's planned month of industrial action will see similar one-hour walk-outs on each of the coastguards' day and night shifts over the next week.
The union says 1,200 staff at the DVLA's 39 local offices across the UK which are facing closure took part last week's industrial action.
Members of the union say the closures and cuts proposed by the UK government will hit jobs and pensions.
Driving examiners
Friday's walkout is also set to include driving examiners across the UK.
A Driving Standards Agency spokesperson said: "Not all examiners are members of the PCS union and even if they are, we can't be sure that they'll support the strike.
"So we're asking candidates who have chosen to keep their test booking for the afternoon of 8 or 15 June to come for their test as normal so it can go ahead if possible.
"We're sorry for the inconvenience this will cause and will do everything we can to minimise disruption for our customers."
A DVLA spokesperson said: "During any strike action our priority is always to maintain a service to our customers and we have well-established contingency plans in place to minimise any disruption.
"Motorists can apply online or by phone to renew their vehicle tax, declare their vehicle off road or apply for a new, updated or replacement driving licence."