Young councillors Mitchell Theaker and Jessica Crook's fresh approach to business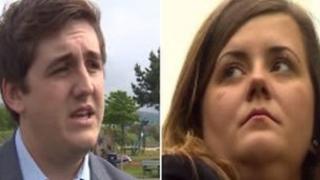 It is often said that young people are turned off by party politics, that they might get behind single issue campaigns but not the more conventional methods of public decision making.
Yet a crop of new young councillors was among the 1,200 or so elected in Wales last month.
Jessica Crook was elected to Monmouthshire council aged just 18.
She is Wales's youngest county councillor and one of the youngest in the UK.
"I want to bring a fresh face to the council," she told BBC One's Sunday Politics Wales programme.
"There's not just one sort of person in Monmouthshire, in my ward.
"It's nice to bring a fresh look at things and just a fresh perspective really and blow out the cobwebs slightly."
Ms Crook said she was getting on well with the older councillors.
"I'm not the sort of person to be intimidated by anybody particularly, I just see myself as on the same level as them, which I am.
"We've all been elected, hopefully we're all doing our best, I certainly am, to help the people that have elected us."
An internship with a Welsh MP encouraged Ms Crook to go along to party meetings and became increasingly active in local politics, something she hopes other young people will seriously consider.
"A lot of young people think that politics is nothing to do with them, it doesn't affect them, it's boring almost," she said.
"I say to them that of course it affects them, even people who just go to the pub every weekend.
Promotion
"The councils are in charge of licensing.
"What would you feel if the pub closed at 11?
"It does affect people in ways that they don't understand and they need to just be aware and have an open mind that politics does affect them and does affect everyone."
Sunday Politics understands that 21-year-old Mitchell Theaker is the youngest council cabinet member in Wales and England.
His portfolio is the promotion of opportunities for children and young people in the new Labour administration in Swansea.
"I think that all of the parties should really look at how they enthuse and engage young people to make them realise that politics is a really good path if you really care about social justice, if you care about making a difference in the world," he said.
"It is easy to get involved to begin with.
"Obviously you have to work incredibly hard to move up but it is just about having a passion and, whether it's in politics or whatever it is in, if you work hard I think you can really achieve.
"Being involved in politics and in the local council is such a great way to make an impact directly on the lives of individuals and if you're in it for the right reasons, if you've got the real passion, I don't think there's anything that can stop you."
The Children's Commissioner for Wales, Keith Towler, is hoping more and more young people will build on experience at school councils and youth forums to become much more involved in their communities.
"If you look at parks, for example, I met with some young people who were putting themselves forward for election who were very animated about why parks were so important to children.
"They had a real different passion about it, and that will help councils, in the broader sense, understand that parks are important to children.
"It's really great that young people can have an active part to play in their local community and fantastic that they can start to shape policies for the future.
"People are always talking about young people and children as our future, but hearing their voice now is really just as important."
Efforts have long been made to encourage more diversity in Wales's councils, to make them a closer reflection of life outside.
It is hoped 2012 was the year when local public life in Wales began to edge a little closer to the age of those it seeks to represent.
Sunday Politics is broadcast on BBC One Wales at 12:00 BST on 10 June.