I don't know where to start, says flooded caravan park owner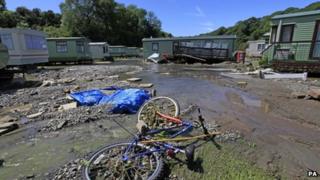 Most of the water has subsided at the Riverside Caravan Park near Llandre a few miles north of Aberystwyth, but it's left behind a trail of wreckage.
Holidaymakers are now returning to assess the damage and count the cost. Many are finding the task too hard to bear.
One caravan owner, Tracey Office, from Herefordshire, was here on Friday night when the weather took a turn for the worse.
She and her teenage son stacked their belongings high, hoping for the best, but today she's found that all their efforts were in vain.
Their small caravan flooded with water and most of their things are ruined- camping beds sodden with water, kitchen equipment strewn across the inside.
"It's hard," she told me, but said she was grateful they at least had insurance.
Wiping a tear from her eye, Tracey said she had spoken to some of her friends here who are not covered and have lost everything.
Just a week ago celebrations were held here to mark the Queen's Diamond Jubilee. Now the tables and chairs used to seat revellers are chaotically spread across the site.
The clean-up operation is now under way here; park owner Stephen South has gathered several willing hands to aid the holidaymakers.
"I don't know where to start," he said. "I don't ever think it will be the same again."