Dol-y-Bont resident Jason Hughes recalls 'awful' flood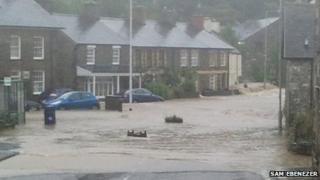 A resident in the Ceredigion village of Dol-y-Bont has described the "frightening" rise of the River Leri which burst its banks on Saturday.
Jason Hughes said the river rose to "unbelievable" levels within a few hours.
He said the river is normally just a "trickle" in the summer months, and would need a massive amount of water to flood.
He lost poultry in the flood waters because it was too risky to save them.
After checking the river levels on Friday night, Mr Hughes said: "It wasn't that bad at all come midnight - it was full, but nothing that bad."
He woke a couple of hours later and described the river as "okay".
However, by about 04:30 BST it was a "completely different story. It was frightening how much water was there - unbelievable".
He said residents living in a cottage near the river were flooded at 05:30 BST, but were expecting the levels to drop.
An hour later they were in their bedroom and "we couldn't even get to their bottom kitchen window, it was that full".
About 5ft (1.5m) of water hit villages in Ceredigion on Saturday following heavy rain.
About 1,000 people were moved to safety, many from caravan parks.
About 150 people had to be rescued by crews, including RNLI volunteers, RAF rescue helicopter as well as more than 100 firefighters and other emergency services personnel.
The areas worst affected in the early hours of Saturday were Talybont, Dol-y-bont, Llandre, and Penrhyncoch - all in Ceredigion.
Mr Hughes said he lives on the elevated side of Dol-y-Bont, but added: "I'm 6ft 3in... I wouldn't have been able to get in my garden... it was unbelievably deep".
Describing how he lost chickens in the flood waters, he said: "It was awful because you could hear them in there but you couldn't do anything, it was just too risky."
He added: "It's got to be massive to get that water over that bank.
"If you could see it in the summer, half the time it's a little trickle of water - it's nothing.
"It's not a major river whatsoever, but Saturday was just awful."