Wales' child safety 'needs more co-ordination ,' says charity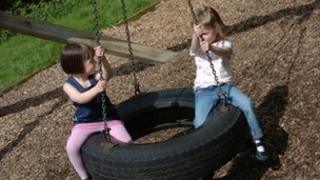 Wales is lagging behind in preventing child accidents although its record is getting better, a report claims.
The report calls for a "whole-government approach to child accident prevention" with road and water safety the priorities, as well as home safety.
On a scale for proven methods of reducing accidental death and injury, Wales was put at 30.5 out of 60 compared with Scotland's 39.
The Welsh government said child protection was a priority.
The report by the charity - the organisation for voluntary, statutory and professional organisations and individuals - delivers a "could do better" message over Wales' approach to child safety.
Its 2012 "report card" gives an overall mark of fair, noting that Wales has "done a good job of addressing safety issues for children and adolescents on the road" while safety in the home has also seen some progress, it claims.
But the report says that "stronger leadership and ownership would improve prevention measures and outcomes for children and young people in Wales".
The report shows that on a scale of 60 for proven methods of reducing accidental death and injury, Wales scored 30.5, up from 29.5 in 2009.
But it gives Wales just one star out of a possible five for cycling safety and water safety/drowning prevention.
It notes that 57 children and adolescents up to the age of 19 died as a result of injury in 2009. It said that if the rate of injury was reduced to that of the Netherlands, 37% of those, or 21, could have been saved.
'Significant improvements'
As well as calling for a whole-government approach, the report calls on the Welsh government to do "more to support a culture of good practice" from national to local levels.
The charity's child safety development officer, Karen McFarlane, said: "Many of these accidents cause lifelong changes for both the children and their families.
"We shouldn't wrap children in cotton wool, but instead, understand that there are 'acceptable' and 'unacceptable' risks.
"It is the 'unacceptable' risks, such as drowning, falling from windows, road accidents, that the report card is aiming to address.
"Other European countries have proved that these types of accidents are preventable and we can reduce the number of children who receive fatal, serious and disabling injuries in Wales."
A Welsh government spokesperson said: "The protection and safety of children is of paramount importance.
"While many of the issues identified in the report are non-devolved, we welcome the findings in the report that show improvements have been made to injury prevention.
"In terms of road safety, we have seen significant improvements in the last decade, with a 54% reduction in instances of children being killed or seriously injured by 2011.
"However, we recognise more needs to be done."