Waitrose robbery: Gang attack guard and steal cash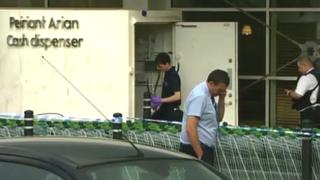 Police are investigating a robbery near a Waitrose supermarket in Cardiff after a gang attacked a security guard filling a cash machine.
South Wales Police said a quantity of cash was taken in the raid close to the Pontprennau branch on Tuesday morning.
The guard was taken to the University Hospital of Wales in Cardiff, but his injuries are not life threatening.
Witnesses said there were five robbers in balaclavas who made their escape in a white van, which was later recovered.
Police are carrying out a forensic examination of the vehicle.
But police said that despite earlier reports they were carrying guns, there was no suggestion the men had any firearms.
Ross Cleland, 20, a Waitrose supervisor, said a store security guard saw the robbers just before the raid at 11:40 BST pulling on balaclavas in a white Transit van.
"The security guard told me he saw a van pull up outside and saw some men put on balaclavas. I was on the phone to the police about this when these men jumped out of the back of the van," said Mr Cleland.
"I screamed down the tannoy when it happened: 'Shut the front doors.' "
Drew blood
He said the robbers, wearing orange fluorescent jackets, attacked one of the security guards and drew blood, but a second guard managed to lock himself inside the small HSBC cash machine building, next door to Waitrose.
"It happened about 6m away from me and in front of about 15 people," Mr Cleland said.
"I couldn't tell what sort of weapons they had, but they had some sort of weapons."
A woman shopping at the supermarket at the time said it was quite busy at the time of the robbery when the announcement came over the tannoy to shut the shop.
She went on: "Five men robbed the man filling the cash machine.
"They hit the man and then drove off. It was really quick.
"The announcement came over and there was such a kerfuffle. They shut the doors because I think they were scared the men were going to come in.
"The next thing there was an ambulance and police were everywhere.
"There's still lots of police there and if you go up there you can see from the main road there is lots of police tape and CID."
Police asked anyone who witnessed the robbery, or saw the white van leaving the scene at about 11:45 BST, to contact them on 101 or Crimestoppers anonymously on 0800 555111.