Improve post office access for sensory loss customers, calls made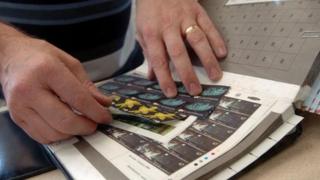 Post offices need to make it easier for people with sight and hearing loss to access them, Consumer Focus Wales says.
A third of customers with sight loss who took part in visits reported problems caused by obstacles and trip hazards at the buildings' entrances.
In four of every five visits, there was no working induction loop available for people with hearing problems.
Post Office Ltd said the report was an important piece of research and would be fully considering the findings.
A total of 78 people with sensory loss acting as "mystery shoppers" visited 150 different post offices, with a total of 583 visits in total.
More than a third of volunteers from the Royal National Institute for the Blind (RNIB) Cymru and Action on Hearing Loss Cymru found the layout and design of their post office a problem, and had difficulty finding the counter on their first visit.
The report, Talking Sense, says in almost a quarter of post offices with hearing loops there was no sign advertising that the loop was available, and in two thirds of these cases staff did not attempt to resolve the problem.
However, despite concerns around safety and customer service, nine out of 10 of those who took part in the study praised post office employees for their professionalism.
One volunteer, Sara Johnson from Cardiff, said: "People were helpful, but they did not have the knowledge.
"The layout and lighting were poor, but not the staff. It was not for want of trying, they just did not have the knowledge."
People with sight loss rated their experience with the post office more highly than those with hearing loss.
The report recommended that post office proprietors should ensure good lighting throughout the premises to aid both those with impaired sight and those lip reading.
It called for staff to receive training in identifying and communicating effectively with a customer with sensory loss.
'Safe and welcoming places'
Ceri Jackson, acting director of RNIB Cymru, said the Post Office was at the heart of the community, adding: "[It enables] local people to access a wide range of services without having to travel too far from home: something that is particularly valuable to the many blind and partially sighted people who find independent travel difficult.
"To have one third of people reporting that it was difficult to even get through the door, because of obstacles and trip hazards, is a real concern and I hope that we can now work with them to help make the Post Office a safe and welcoming place for everyone in the local community."
Richard Williams, director of Action on Hearing Loss Cymru, said: "Post Offices are cutting themselves off from their customers by not making use of important communication tools like hearing loops.
"When you consider that one in six people in Wales has hearing loss, those post offices are not providing services that are fully accessible to their customers - not only is it poor customer service but it's also bad for their business."
Tony Jones, Post Office regional manager for Wales, said he was pleased the "vast majority of customers" had praised the way their needs were handled.
He commented: "This is an important piece of research and Post Office Ltd will take time to fully consider its findings and decide how we capture the learnings to work with our colleagues and sub-postmaster agents so that we offer an even better service to all of our customers".