Pembrokeshire pupil abuse row: Cover-up over padded 'time out' rooms denied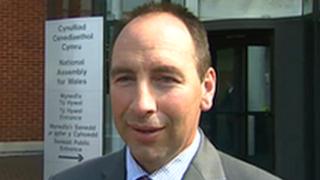 The leader of Pembrokeshire council has said there has been no cover-up over claims some school pupils were locked in padded "time out" rooms.
His comments come as a controversy over alleged child protection failings in the west Wales county deepen.
In September last year, the Welsh government sent a panel of experts into the authority after problems were highlighted.
Among them were children being locked in rooms and of one's hands being tied.
Speaking on Thursday, Pembrokeshire council leader Jamie Adams - who has only been in the job for a matter of weeks - said any official found responsible for any failures would be held "fully accountable".
This week, Dyfed-Powys Police have been passed material by the council as the row over child protection failings deepened.
It follows the issuing of a final warning from a minister in the Welsh government who felt more should be done by the authority to react to abuse claims.
In an interview with BBC Radio Wales, Mr Adams pledged to "get to the bottom" of child protection failings in the county.
He backed his top officials after they were criticised for the handling of the allegations.
There are claims that some children were locked in padded "time out" rooms.
But Mr Adams said there was no evidence of children being held in locked rooms since 2009 adding that those allegations were being investigated.
"I have extensively conducted interviews with many officers and further within the council and that is the position that I am able to ascertain," he said.
"I have not been presented with any evidence from anyone outside the council that any such action has been undertaken since that time either."
On Wednesday evening, Pembrokeshire council confirmed it had given new information to police as part of ongoing investigations into child abuse.
Earlier this week as the controversy deepened, a father claimed his six-year-old son had his hands tied behind his back in class by a teacher.
Mr Adams said he had concerns about the allegation. He said: "I would never advocate any action that resulted in a child being tied up."
The Welsh government has called the safeguarding of children "absolutely paramount" and said, following a meeting with Mr Adams on Wednesday, that serious questions remained about events and the council's response.
Mr Adams said: "There is an acceptance that the procedures and policies we had in place were not sufficiently robust to ensure a framework which allowed the safeguarding agenda to be held in confidence.
"We have done a great deal of work in that regard, from senior officers to front-line staff.
"That work is ongoing. I have described it as a journey. However, we're nowhere near the end of that journey, I understand that."
He said he was able to assure ministers that good procedures were now being "firmly embedded" by the local authority.
The Welsh government stepped in last year when inquiries by the Care and Social Services Inspectorate Wales and schools inspectors Estyn warned about failures.
It appointed a panel of experts to oversee the council's procedures.
Ministers are now considering giving the chair of the board - retired judge Graham Jones - the power to issue instructions so the authority meets its duties.
He said: "There was no attempt to mislead as far as I can ascertain."