Wales floods: Heavy rain warning by Environment Agency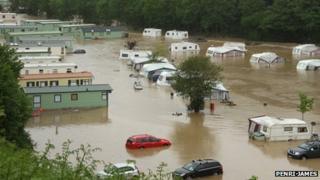 Much of Wales continues to be hit by summer storms, leading to renewed flooding fears.
Forecasters warn that as much as 30mm (1in) could fall on upland areas, on to already saturated land.
The Environment Agency has urged the public to remain vigilant but had not issued any flood alerts in Wales during Thursday evening.
However, a Met Office weather warning for rain remains in force until Saturday.
The latest weather alert follows the devastating floods that hit parts of mid Wales last weekend.
"Widespread rain is due to affect most parts of Wales today, the heaviest likely to be over upland areas," said a spokesperson for Environment Agency Wales.
"This could lead to localised flooding of fields and roads and from blocked drains or small streams.
"As the ground is already wet, rivers may rise in response to further rain, which may lead to flood alerts or flood warnings being issued.
"Officers from Environment Agency Wales continue to keep a close eye on the situation and are monitoring river levels."
Clean-up continues
The Met Office weather warning came into force at 18:00 BST on Thursday.
"We could see 20 to 30mm - over an inch of rain - more on higher ground as this band moves north-eastward," said BBC Wales weather presenter Sue Charles.
She said strong wins were also expected with "gusts of 50mph on the coast, and these are just the average wind speeds".
However, the rain is set to ease overnight into Friday, before a second band of poor weather sweeps across Wales on Friday evening into Saturday.
The fresh warnings come as major clean-up operations continue in Aberystwyth and the nearby villages of Talybont, Dol-y-Bont and Llandre and other areas affected by the flooding at the weekend.
Parts of Ceredigion were hit by 5ft (1.5m) of flood water with record high river levels in parts last Saturday.
Some families have been warned that they could have to leave their homes for up to six months while the damage is repaired.
Environment Agency Wales as urged the public to keep up to date with the latest flooding information, through news broadcasts, its dedicated Floodline on 0845 988 1188 or through its website .