Community leaders call for talks over Unilever job cuts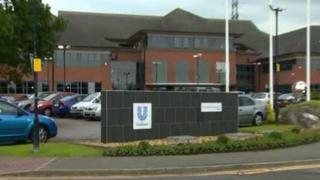 Community leaders are calling for meetings with Unilever bosses over plans to shut sites in Flintshire, Swansea and Bridgend, cutting 450 jobs.
The company said 200 jobs could go at the firm's IT centre in Ewloe and 400 transferred to Merseyside.
Around 225 jobs could be lost through the closure of its Swansea factory, and 25 at a distribution site in Bridgend.
Flintshire and Swansea councils are hoping for talks with Unilever before a final decision is made in three months.
The consumer goods giant also plans to shut a plant in Slough, Berkshire, bringing the total number of losses to 800.
The company has a total UK workforce of around 7,200 and makes products and brands ranging from Ben and Jerry's ice cream, Marmite, PG Tips and Pot Noodles to Dove soap, Vaseline, Persil and Domestos.
It said the proposed changes could take effect by the end of 2013 and would be made up of 500 direct job losses and around 300 contractor and third party jobs.
'Take early action'
The Swansea factory makes personal care products, while in Bridgend the company has a distribution site.
Some of the jobs in Ewloe could be outsourced to Unilever's IT centre in Bangalore, India.
Reviews of the proposals are expected to be concluded in the autumn, with a final decision taken in September.
However, Unilever said it would be investing £40m in its largest UK factory in Port Sunlight, Merseyside.
"We will discuss with Unilever what can be done by the council and Welsh government to keep the plant open," said Christine Richards, deputy leader of Swansea council.
Flintshire council leader Aaron Shotton said the authority would also be seeking talks.
"The advance notice by Unilever will allow us to take early action on behalf of local employees," he said.
Plaid Cymru AM for South Wales West Bethan Jenkins said she was concerned.
"I'm very distressed to hear that my region will be taking the lion's share of these proposed redundancies," she said.
"Swansea and Bridgend really do not want to be suffering further job losses at this time, and I will be taking the matter up urgently with the First Minister and with the company. We need better solutions than what has been offered here."
Geraint Davies, Labour MP for Swansea West, said it was bad news at a difficult time for the economy.
"Clearly, the Swansea-based city region, the four councils Swansea, Neath Port Talbot, Pembrokeshire and Carmarthenshire, (should) begin to pull together now," he said.
"We need to market Swansea as a place for inward investment. Much more needs to be done, but clearly this is very bad news at a very difficult time."