Marine conservation zones 'will benefit Welsh coast'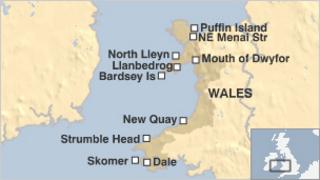 A government adviser is trying to allay concerns about restrictions imposed by planned marine conservation zones (MCZs) around the Welsh coast.
The Welsh government will create three or four MCZs by 2014 from a list of 10 potential sites identified by experts.
Campaigners say the zones will destroy fishing and tourist industries in the Llyn Peninsula and Anglesey.
But Dr David Parker says "normal recreational activities" will not suffer and fish stocks will improve.
Dr Parker, chief scientist with the Countryside Council for Wales, said activities, including swimming and diving, will still be allowed within the proposed "highly protected" zones.
But such zones will put a stop to both commercial and recreational fishing as well as other "damaging" activities such as dredging and renewable energy projects.
Boats would be allowed to sail through the zones but not anchor in them, as that would damage the sea bed, said Dr Park who is advising the Welsh government on the science of the proposals.
Ministers are consulting on sites, with some local people worried that a marine reserve on their doorstep would damage the local economy by putting fishermen out of business and deterring tourists.
Dr Parker told BBC Radio Wales' Eye on Wales programme that those with concerns should look at the global experience of MCZs, as 61 countries already have similar marine reserves.
He said evidence showed they could combine "tremendous non-destructive public use" with environmental benefits.
'Human intervention'
"You get more fish, you get more biomass, you get fish that have greater reproductive success. These effects can spill over into the surrounding marine environment."
Dr Parker also believes that the planned adoption of up to four of the 10 proposed sites will help scientists to understand and manage seas better.
"We don't have any information about what the Welsh marine environment would look like without human intervention," he said.
"We need to understand much better how to manage the marine environment in a sustainable way - so we can have all the human activities such as fisheries and recreational in a sustainable way."
Dr Wendy Dodds, of environmental campaign group WWF Cymru said: "We have taken the health of our seas for granted and we have got declining biodiversity and that's why highly protected MCZs are really essential to reverse this decline and make sure we have healthy seas for today and for the future," she said.
"We have a network of European marine sites which allow multi-use protected areas but we're seeing within those sites damaging activities occurring.
"So it's only appropriate to look at limiting damaging activity in a small number of areas to complement the existing network."
'Right reasons'
Bird conservation charity RSPB Cymru supports the principle of highly protected sites, but marine policy officer Gareth Cunningham said "they need to be in the right place and for the right reasons".
"Ideally, we would like to see a range of larger, more extensive MCZ with highly protected areas within them that exclude the most damaging activities but work at the same time with the smaller, less damaging industries, and approach marine management in a more sustainable manner," he said.
In some parts of the world MCZs have led to increased number and sizes of species over-spilling into areas where they can be fished.
But Michel Kaiser, professor of marine conservation at Bangor University, said elsewhere results have been far less evident, even undetectable.
"There are a range of responses and we need to be careful not to cherry-pick the responses we like to refer to," he said.
"We also need to remember that the assumption seems to be that many of these areas have been extremely heavily exploited already while you might actually challenge the levels which people think those areas have been exploited."
The Welsh government is inviting comments on an initial list of 10 areas - four on the Llyn Peninsula, two off Pembrokeshire, two off Anglesey, and one Cardigan Bay.
Two further rounds of consultation will whittle the list down to three or four spread around the Welsh coast.
Eye on Wales is on BBC Radio Wales on Sunday 17 June at 13:05 BST.