Tom Maynard death: Glamorgan postpone match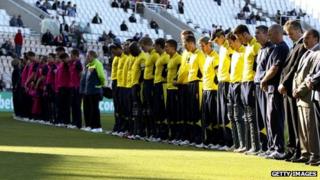 Glamorgan's Twenty20 (t20) match against Worcestershire has been postponed after the death of former team-mate Tom Maynard.
Maynard, 23, was killed on Monday by a London Underground train.
Earlier, Glamorgan captain Mark Wallace said the team faced a "tough decision" about Wednesday's match in Cardiff. The game will now be played on 3 July.
A police watchdog is to consider investigating the death.
The Independent Police Complaints Commission (IPCC) confirmed it had been notified of the incident.
Meanwhile, England and the West Indies will wear black arm bands as a mark of respect for their one-day match, and there will be a minute's silence.
Maynard played for Glamorgan for four seasons.
In a statement, Glamorgan cricket club said: "Following discussions amongst the players and coaching staff, Glamorgan Cricket have announced that the Friends Life t20 match against the Worcestershire Royals tomorrow has been postponed as a mark of respect for Tom Maynard and his family.
"Glamorgan Cricket would like to thank both the England & Wales Cricket Board and Worcestershire County Cricket Club for their understanding and co-operation with this matter."
Surrey's t20 fixture against Hampshire, which was due to take place on Wednesday, has already been called off as a mark of respect.
Before the announcement, Wallace said he was not sure if the Glamorgan players would be keen to play so soon.
He told BBC Radio Wales: "I think the situation we found ourselves in yesterday I can't really see there being much appetite for play, but that might change.
"It'll be a tough decision to make, but Surrey have called their game off so we'll see what transpires when all the lads get together for this.
"I don't think it's a decision that's going to be right or wrong either way.
"Whether we call the game off as a mark of respect for Tom and his family and how much they mean to the club or whether we play it and dedicate the game to Tom.
"We'll have to find out how a lot of the boys are bearing up when we get into the ground today."
He added: "We inhabit a world as professional cricketers where we put a lot of importance on something that at the end of the day sometimes really doesn't matter that much, so I think this has put a lot of perspective into our lives."
Cardiff-born batsman Maynard was a member of the England Lions team that toured Bangladesh earlier this year, and was regarded as one of country's most promising young batsmen.
Surrey's flag is flying at half-mast at its Oval ground where England will play the West Indies later in a one-day match.
Surrey bowler Jade Dernbach may be unavailable for the game on compassionate grounds following his friend's death.
Maynard's death was announced a day after he played for his county in the t20 game against Kent.
The Metropolitan Police said a man matching his description ran away after a car being driven "erratically" was stopped in the early hours of Monday.
A Metropolitan Police spokesman said: "At approximately 04:15 BST on Monday, 18 June, officers stopped a vehicle after it was seen being driven erratically in Arthur Road, SW19.
"The male driver of the vehicle - a black Mercedes C250 - made off on foot. Officers were unable to locate the man.
"At approximately 05:10 BST the body of a man fitting the same description was found on tracks near Wimbledon Park station."
News of his death prompted tributes from within and beyond the world of cricket.
Rob Davies, head of sixth form at Whitchurch High School in Cardiff when Maynard was there as a pupil, said: "Tom was a fantastic cricketer, and would often play out of age group, he was that good.
'Sporting talent'
"He joined us in 2007 from Millfield (public school) and moved back closer to the family home and obviously to continue his development at Glamorgan, which was clearly going to be a wonderful career.
"I remember him integrating extremely well into a large sixth form. He was a very, very unassuming, quiet boy in many ways for somebody so very talented, and joined that large sixth form and made a real impact academically.
"But it was his sporting talent that was most marked, I think. With cricket obviously, but also rugby, don't forget, he was a very, very talented rugby player."
Surrey described Maynard as "an incredibly talented young batsman".