Female boxing ref first for Wales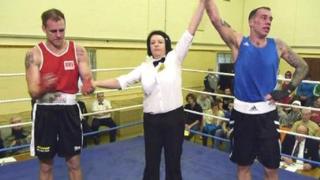 An IT lecturer has landed a blow for women by becoming the first female Welsh amateur boxing referee.
Mandy Brown from Llandudno, Conwy, became a fan of the sport as a child when her parents used to show televised fights in their pub.
She got involved after her husband, a youth worker, opened a boxing club for young people in the town.
The Welsh Amateur Boxing Association confirmed Ms Brown was its first qualified woman to referee in the ring.
Other women have sat as judges in boxing competitions but none have ever climbed through the ropes and got up close with the competitors.
Ms Brown said she used to creep downstairs and watch the boxing matches in her parents' pub as a child because they were exciting.
"In those days they didn't have all the channels they do now, so Friday fight night was quite a noisy one where all the lads were really interested in watching one.
"I used to sneak downstairs and watch it, and was allowed to stay if I stayed quiet and watched."
From this, she learned about scoring rounds and other boxing rules and became a fan of fighters such as Sugar Ray Leonard, Muhammad Ali and Chris Eubank.
But the personal contact with boxing only began about five years ago after her husband started Llandudno Amateur Boxing Club following a consultation with local youngsters about the facilities they would like to have.
He started training to be a judge, and Ms Brown used to accompany him to matches, but found she was not allowed at the ringside.
She said: "I had to change that. There was a recruitment drive for judges so I went along and they tested whether I could spot a blow.
"Then they invited me to come and sit next to a judge and see how my results compared."
Training and exams followed, all alongside her job as a lecturer at Llandrillo College.
"One night I was shocked to be told, 'get your white shorts on, you're going into the ring to referee'."
She is now a Grade One national referee working in the northern division in Wales and the next step is to take the AIBA Amateur International Boxing Association qualification to allow her to referee at international matches.
'Heroes of mine'
Ms Brown has just returned from the Great Britain Junior Championships in Scotland where she became the first Welsh woman referee to oversee a GB international bout.
She travelled up with the Welsh National Squad and their coaches, who included Welsh boxing legend Colin Jones and Michael Smyth, who was the last boxer to defeat Joe Calzaghe as an amateur.
Ms Brown said: "I couldn't believe that I was sitting eating my meals with these heroes of mine, as they told stories about all the greats that they had encountered."
She also trains some of the younger boxers at Llandudno ABC.
She is keen to encourage other women (and men) to come forward and train as a referee and judge (R&J), and is helping one of Wales' first female boxers Helen Jones through the process now.
"They are trying to recruit other judges. Anyone who enjoys boxing and can give up Friday nights can come along."