Mary Edwards, 100, still a school governor on Anglesey after 75 years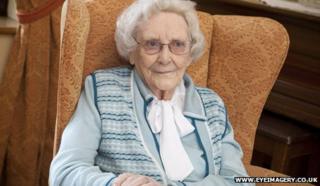 A 100-year-old former county council mayor is believed to be the longest-serving school governor in the UK.
Mary Augusta Edwards, from Bethel, Anglesey, is also thought to be the UK's oldest community councillor.
Mrs Edwards, who ran her late husband's GP surgery, has served at Bodorgan School for 75 years and was awarded the MBE back in 1974.
Headteacher Robin Griffiths said: "I wouldn't be without her - she would make a good prime minister."
Mrs Edwards' contribution to public life on the island began in 1936 when she became a school governor.
She became a widow at age 31 but was able to keep her husband's surgery open until 1948 by using locum doctors. She herself was a nurse.
In that year she was elected to represent Bodorgan on former Aethwy District Council and was twice chairman before it disappeared under reorganisation in 1974, the year she was awarded the MBE.
'Great help'
Her public service continued with her becoming an Anglesey county councillor until 1996, serving as mayor in 1976-77.
The great-grandmother of seven said she decided to enter public life to show her appreciation for the kindnesses shown to her.
She said: "I thought it was time to put something back and to help people have amenities which I had not had in those early days, including electricity and sewerage."
Throughout all this time, she continued as a governor at the local school where one of her three children attended.
Mr Griffiths said he was the sixth headteacher Mrs Edwards has worked with at the school, which currently has 34 pupils aged from four to 11.
He said: "She knows every family and every child. She used to the councillor for the area and is very popular.
"She's very fair-minded. She sees both sides of every argument.
"We've never had a disagreement but that's not why I like her. She's very supportive of every new scheme we have.
"She's a great help to me and the school."
Mrs Edwards still lives in the house which she and her husband built.
She has been presented to the Queen several times and says she is pleased that the Duke and Duchess of Cambridge are near neighbours.
She said: "She's often in the village shop and it's lovely that they're living here."
Mrs Edwards now has day care every Friday at the care home which she opened 25 years ago while still a county councillor.
Ann Hughes, a member of Care Forum Wales, who took over Rhos care home, in Malltraeth, 11 years ago, said: "She has been closely linked with the home right from the very beginning.
"She's an amazing woman."