After 1906 Swansea earthquake, is Wales due another?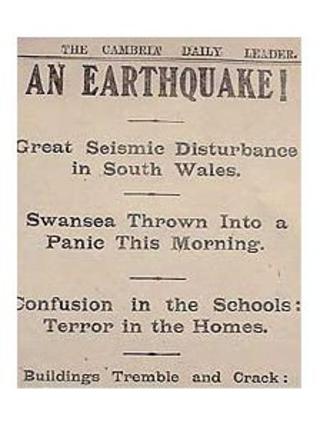 On the morning of 27 June 1906, Swansea residents felt the ground shaking as one of the most severe earthquakes in the UK in recent times rumbled through south Wales.
Bricks and chimneys fell, plaster fell away from walls and the Mumbles lighthouse rocked on its foundations.
Measuring a magnitude of 5.2, it was a major quake for Wales, but just three local people were injured.
The Cambrian Daily Leader carried reports of "Swansea being thrown into panic" with "confusion in the schools, terror in the homes."
The clerk at Swansea's post office described watching the counter shake, many people dashed from their homes with several escaping from upstairs windows while miners at several collieries were brought back to the surface.
Llanelli's town hall clock stopped, people in Ammanford thought there had been a huge explosion and children at one school in Merthyr Tydfil ran in panic into the streets.
What caused this quake, and is Wales due for another major seismic event?
Dr Roger Musson of the British Geological Survey (BGS), an expert in historical seismic activity, said: "Tectonic plates are squeezed from their edges, but the pressure extends all the way through".
"Think of something squeezed in a vice; it's not only stressed at the edges. When the local stress exceeds the strength of the rocks along some ancient geological fault, an earthquake occurs."
Earthquakes in Wales happen more often than might be thought. Every year there are dozens of tiny quakes, while more noticeable ones happen every couple of years.
Since 2000, BGS has registered almost 100 quakes in Wales. Just this year, on 15 May, a magnitude 2.5 quake hit Blaenau Gwent.
Wales is crossed by several major faults, but there are hundreds of lesser ones. It is very difficult to tell which fault produced a particular earthquake, because a geological map shows what faults are visible at the surface. It is hard to say what faults exist 10 miles down where earthquakes are occurring.
We do know a major fault exists in north Wales. On 19 July 1984 the UK's largest onshore earthquake occurred on the Llŷn Peninsula, at magnitude 5.4, 14 miles down into the crust. Hundreds of aftershocks were registered.
Swansea's earthquake, and the Llyn Peninsula event were severe for the UK, but compared to some of the recent disasters, they were tiny.
Dr Musson explained: "Magnitude is related to the amount of movement, the size of the fault that slipped, and the amount of energy released.
"What you feel in an earthquake depends not only on the magnitude, but how far away you are, and how deep the epicentre is.
'Sideways forces'
"As a rough guide, for every plus one in magnitude, it's 30 times the energy.
"So if you work out Swansea's earthquake at magnitude 5, the Japanese earthquake of 2011, at magnitude 9, is 30x30x30x30 the energy, which is 810,000 times worse."
Is Wales due for another severe earthquake any time soon? Dr Musson: "If we take Swansea in particular, since 1700, the average interval between strong quakes has been 75 years.
"It's now 106 years since the last one in south Wales. Does that mean we're overdue? Or does it mean that 1906 was the last in a 200-year cluster, to be followed by a protracted quiet period? I wish I knew."
But he does think Wales could be well-positioned to withstand another severe quake: "Ordinary buildings in the UK are not designed against earthquakes, but a house in Wales has to withstand Welsh weather, and the ability to withstand sideways forces applied by gales gives a natural resistance against sideways forces applied by earthquake shaking.
"The most likely things to be damaged in Wales are old chimneys in a poor state of repair, and since these can coming crashing through the roof and cause injury, it's a good idea to get these things made safe before an earthquake strikes!"