'Death trap' A55 cycle route in Conwy improved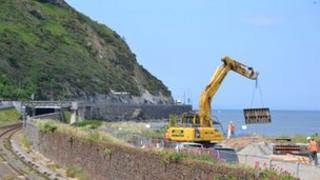 Work has begun on improving the safety of a cycle route in Conwy county which was once called "horrible", a "death trap" and a "disgrace".
The section runs along a narrow pavement next to the main A55 road between Conwy Morfa and Penmaenbach headland.
A £1.1m programme of improvements has now begun.
It includes building a new bridge over a nearby railway line to divert cyclists and pedestrians from the road.
The section was criticised by the former chief constable of north Wales, Richard Brunstrom, who cycled the route in July 2006.
He said at the time: "It is a death trap...you have to cycle on a very narrow pavement right next to the main road, with no protection at all. Horrible.
"This is part of the UK's national cycle network and it is a disgrace."
National Cycle Route 5, which ran along the section of road, has been temporarily suspended for several years as "unsuitable for leisure cyclists".
Improvement works are being co-ordinated by walking and cycling charity Sustrans.
Glyn Evans, area manager for north and mid Wales, said: "It will fill in a missing link along the north Wales coastal walking and cycling route between Conwy town and Penmaenmawr.
"This vital link will transform the walking and cycling experience on this key route.
"The new route will provide a bridge over the north Wales railway and a new path through the Conwy Morfa dunes, completing National Cycle Network Route 5 between Chester and Holyhead.
"The new link will also be part of the recently-launched Wales Coast Path."
Neil McKenzie, a keen cyclist from Llandudno, welcomed the start of the work.
He said: "It's brilliant. It's such a dangerous stretch. You're cycling facing oncoming traffic.
"You get a large blast of wind from passing lorries which can make it feel even worse."
The project will cost £1.1m, of which £300k has come from the Big Lottery Fund, the rest coming from the North Wales regional transport consortium - Taith - and the Welsh government.
Sustrans expects construction to be complete by August.