WNO performs for Prince Charles at Buckingham Palace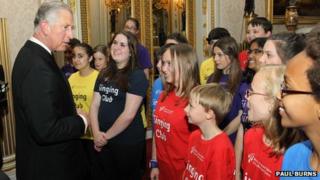 The Prince of Wales has hosted a gala performance by Welsh National Opera (WNO) at Buckingham Palace.
Prince Charles, patron of the WNO, watched performances by bass baritone Bryn Terfel and soprano Rebecca Evans.
Thursday's event included pieces by Wagner, Chabrier, Davies and Bernstein.
As guests arrived at the palace, they were entertained by 35 members of WNO's Singing Club, made up of 10 to 14-year-olds who meet every Saturday to learn singing and acting techniques.
Singing Club members regularly fill children's roles in WNO operas, including this summer's production of La Boheme.
Speaking before the event, Naomi Rich, 14, from Cardiff, said: "I am really looking forward to singing in Buckingham Palace because it's a great experience and really special.
"It is a once in a lifetime opportunity."
Libero Tassini, 11, originally from Italy but living in Cardiff, said beforehand: "I'm so excited about singing in Buckingham Palace.
"It is going to be great to meet Prince Charles."
Sara-Jane Waters, 14, from Usk, Monmouthshire, had already sung for the Queen with her county choir.
She said: "I'm really excited because I am so honoured to have the opportunity to sing inside the palace."
Rhian Hutchings, director of WNO MAX - WNO's education and outreach department - said the Singing Club members were the "perfect ambassadors for WNO".
She said the performance was "a great opportunity to show all sides of the company including our work with young people and the community".
The Buckingham Palace event was to thank the company's supporters, the WNO Futures Appeal.
Prince Charles met the supporters at a palace reception.