16,000 fewer homes at flood risk, says Environment Agency Wales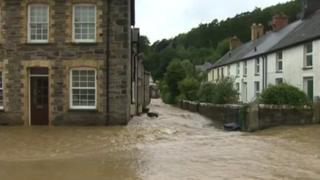 About 16,000 fewer properties are at serious risk of flooding compared with four years ago, according to the Environment Agency Wales.
It says £42m has been spent on sea and river defences since 2009 with more work to be done to further reduce levels of risk.
A report in 2008 said 64,000 properties were at risk. It now stands at 48,000.
The announcement comes as homes and businesses in mid Wales were hit by floods earlier this month.
The revised figures will be sent to the Association of British Insurers (ABI) which issued a warning in January saying thousands in high risk flood areas faced potential future insurance problems when a UK government pact ends next year.
Conwy county has seen the largest fall, down from 10,000 to just 600 properties regarded as being at significant risk with the completion of flood defence works and improved technology in predicting flood risk.
EAW says Denbighshire has also seen a big drop down to around 600 properties said to be a significant risk.
"We work hard to reduce the risk as much as we can for people but flooding can still happen," said EAW director Chris Mills.
"We have seen only too recently the devastating impact that flooding has on people and their homes and businesses."
Hundreds of homes and businesses were damaged after torrential rain and overflowing rivers in the area earlier in June with Aberystwyth and nearby villages such as Talybont, Dol-y-Bont and Llandre badly affected as well as Pennal in Gwynedd.
The ABI said it would take the revised figures into account.
Insurers have an agreement with UK government to provide cover for high-risk properties while flood defences are improved.
The UK government said it was working with the industry to try to make sure the arrangement continues after June 2013.
ABI head of property Aidan Kerr said: "The Environment Agency do share flood risk data with the industry and insurers will take account of improvements in flood risk once these improvements are reflected in the data provided to them."