Disused plane art space Adain Avion to visit Swansea, Ebbw Vale and Llandudno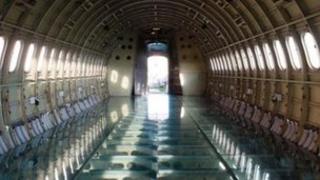 The fuselage of a DC-9 aeroplane, which has been converted into a mobile art space, is to visit three Welsh towns as part of the London 2012 Festival .
Adain Avion will go to Swansea at 19:00 BST Sunday and stay for a week, before going to Ebbw Vale, Llandudno and the National Eisteddfod at Llandow.
In each town it will be pulled into place by a teams of sports people.
At each location a series of community and arts events have been organised in the run up to the Olympic Games.
All of them will be filmed and given to the National History Museum at St Fagans in Cardiff as part of an archive. They can also be seen by visiting The Space website .
In Ebbw Vale it will arrive as part of a large-scale nocturnal procession called the Ghost Parade.
Artist Marc Rees is curating the visit of Adain Avion to Wales.
"There were twelve flagship projects called 'artists taking the lead' - eight in England and one in each region," he said.
"The idea was for 12 public art commissions - creative ideas which would use the nation as a blank canvass."
In Pictures: The Olympic festival
The events at Swansea range from leisure centre activities to "Guerrilla Restoration", where artist Catrin James has secretly restored 1960s architecture details across the city.
Other artists will be working with cockle sellers at Swansea market, whilst local produce will be celebrated at a Vetch Veg day.
"I was introduced to an incredible space in 2005, which was a converted DC-9 airplane which could become a cultural container and the artists' who owned it asked me to 'baptise' the space in 2005," said Mr Rees.
"They wanted to bring the space to Wales and I thought the only way that could happen, due to the cost, was to do it through the Olympics.
"I hope people are going to react in awe and curiosity and want to come to see and participate in what we are doing.
"There is an eclectic mix of things taking place which reflects the communities we'll be visiting, and I hope people will want to come to these free events.
"It's part of 'artists taking the lead' and it's like nothing else and hopefully people will want to take part," he added.