Gypsy culture: Ceredigion and Pembrokeshire stage celebrations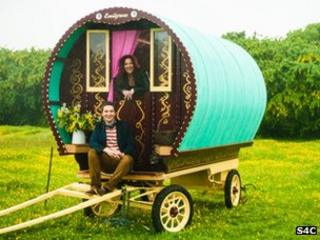 The Gypsy traditions of Ceredigion and Pembrokeshire are being celebrated in a week of community events.
Music, dance and food take centre stage at the events taking place to mark Gypsy Roma and Traveller History Month.
Celebrations start on Monday in Cardigan and continue in Newcastle Emlyn, Crymych, Newport and Fishguard, finishing in Rosebush on Saturday.
TV presenters Ifan Jones Evans and Shan Cothi will tour the region in a Gypsy caravan for a nightly series on S4C.
Called Y Sipsiwn (The Gypsies), the programmes will examine how the Romany Gypsies have left a lasting legacy on Welsh life and history.
The events and programmes have been organised in collaboration with Isaac Blake, director of the Cardiff-based Romani Cultural and Arts Company.
"Y Sipsiwn is a contemporary series which also looks at the history of the Romany Gypsy tradition and so helps to create an awareness of the background and history as well as the situation of the community today," he said.
"It will, hopefully, balance out some of the negative media preconceptions and challenge the myths and stereotypes."
The Amigos, Lowri Evans and Radwm are among the musicians taking part in the community events, along with local food producers, poets and folk dancers.
Meanwhile in Cardiff, an event on Monday at St David's Hall will celebrate Gypsy, Roma and Traveller culture with films, live performance, art and children's activities.
An exhibition about the city's Gypsy heritage is on show at the Cardiff Story museum until August.
Y Sipsiwn (The Gypsies) is on S4C from Monday to Friday, 25-29 29 June at 20:25 BST, and on Saturday 30 June at 21:00 BST.