Estyn says more talented pupils in Wales need challenges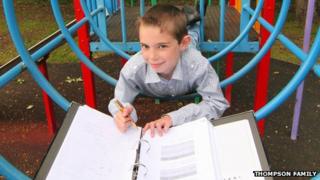 Secondary schools in Wales are not doing enough to help more talented pupils, say inspectors.
The report by the inspection body Estyn also found more able pupils were not achieving as well as those in England.
The National Association for Gifted Children said the talent of able pupils was being wasted and unchallenged, and this could lead to disruption in class.
The Welsh government said it acknowledged that more needed to be done to encourage schools.
Estyn has examined how well schools and local authorities in Wales identify, support and challenge about 20% of pupils who show an ability or talent.
Last year it called on primary schools to provide more challenges for such pupils.
In its report on secondary schools the inspectorate found:
Only a few schools in Wales identify, support and challenge more able and talented pupils
Overall exam results have improved in the schools that do so
More able and talented pupils achieve less well in Wales than in England
Since 2008, too few pupils achieved above the expected level for their age in the core subjects of English or Welsh, mathematics and science
Too few pupils achieved GCSE grades A* or A in these core subjects
Estyn said more talented pupils benefited from personalised approaches to learning, access to specialist teachers, mentoring on career choices and parental involvement.
'Opportunities'
The report also highlighted a lack of continuity in the transition from primary to secondary school.
"There are a lot of talented learners in Welsh secondary schools whose potential is not being developed fully enough," said Ann Keane, the chief inspector of education and training.
"Schools need to consider whether they are offering children the full range of experiences and opportunities that will enable them to reach their potential and prosper."
Denise Yates, chief executive of the National Association of Gifted Children, said she was disappointed at the report's findings.
"It's absolutely essential that schools identify their children with high learning potential," she said.
"Firstly, if they do not then all that talent goes to waste. Secondly, these children can cause havoc in the classroom if they are not challenged."
Rod Thompson, of Rossett, Wrexham, whose son Cameron, 14, will complete an Open University maths degree next year, said the family's experience of coming to terms with his talent as a school pupil had been "very, very difficult".
Cameron's "off the chart" maths ability, the subject of a BBC TV documentary last year, was first spotted when he was 11.
"He was our first child and we didn't know anything about it," said Mr Thompson. "It was overlooked. We were told he was misbehaving and looking out of the window."
Mr Thompson said he agreed "100%" with Estyn's report, adding: "I have a problem with the definition of special needs. Where did they get the idea that it means only children who are struggling?
"It can mean children at the top end. They are just as much special needs as those who are struggling."
The Welsh government said Education Minister Leighton Andrews had made clear his plans to raise performance across the board.
"This means ensuring that all children and young people are supported to reach their full potential, including more able and talented pupils," it said.
"Whilst we recognise from the Estyn report that more needs to be done to encourage schools to adequately identify more able and talented pupils, we note the positive response to the support provided by the Welsh government and National Association for Able Children in Education (NACE).
"We will be writing to local authorities to draw their attention to this report and encourage them to address the recommendations contained within it."