Welsh mining memorial appeal launched at Senghennydd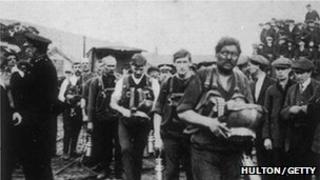 An appeal for the first Welsh National Mining Memorial has been launched at the site of the worst mining disaster in Britain.
First Minister Carwyn Jones launched the appeal at Senghennydd near Caerphilly in south Wales.
In October 1913, 440 miners died in an explosion at the Universal Colliery.
But the NUM's Wayne Thomas said he believed a large wheel erected in Pontypridd was already a national mining memorial.
Launching the appeal, Mr Jones said mining "is central to the story of Wales" and it is "only right that there is a permanent memorial".
The first minister was invited by the Aber Valley Heritage Group to launch the appeal.
It is developing plans to erect what it is calling a "landmark memorial" close to the site of the former colliery which will be dedicated to all Welsh mining communities, at the same time as honouring the victims of the Senghennydd disaster.
Speaking before the launch, Carwyn Jones said mining had "shaped our history and communities and its social and physical legacy is still with us today.
' Tragic history'
"There was a time when mining tragedies were sadly all too common and only recently we saw four men loses their lives at the incident at Gleision, an event which was a sharp reminder of the dangers of the industry."
Harry Andrews, leader of Caerphilly council, said they were supporting "this exciting scheme to recognise the generations of men and boys across Wales who worked underground - many of whom lost their lives in the process.
"The tragic history of the Aber Valley, together with a significant contribution to the Welsh coal industry, makes it a fitting location for a Welsh National Mining Memorial - the very first of its kind in Wales."
Mining historian and Aberavon MP Dr Hywel Francis said: "I welcome this local initiative to establish a Welsh national memorial to all the men, women and children who were killed in the Welsh coal industry.
"It's very appropriate that this should be initiated in Senghennydd which witnessed the worst mining disaster in Britain in 1913 when 439 miners were killed."
Focus of respect
However, Wayne Thomas, general secretary of the NUM in south Wales, said a large wheel erected in the NUM's ground in Pontypridd and unveiled by former Labour leader Neil Kinnock in the early 1990s, was already a national mining memorial.
He said there were similar memorials represented by the Big Pit museum and the Rhondda heritage park in south Wales.
A 12.6m (41ft) statue of a miner was also erected at Six Bells near Abertillery in 2010, in memory of 45 men and boys who died in an explosion in 1960.
But Mr Thomas said that he would not have a problem if people were to support the appeal for a separate memorial at Senghennydd, scene of the worst mining disaster in Britain, which illustrated the harsh realities of working underground.
A statue providing a "symbolic, poignant and recognisable landmark which will be a focus of respect for Welsh miners" is envisaged for Senghennydd , with a landscaped garden, and a wall of remembrance, and a small parking area.
Almost £50,000 Heritage Lottery funding will be used for other activities like identifying the victims to raise awareness of the disaster.