Castle and mansion among £4m heritage grant winners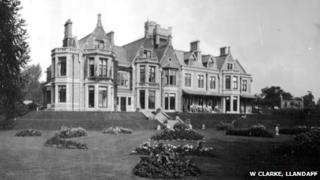 Cardigan Castle and a Victorian mansion in Cardiff are among regeneration projects across Wales sharing more than £4m in heritage funding.
The castle's preservation trust has £743,345 grant towards an £11m project to create a visitor centre, shops and education activities.
Cardiff's Insole Court Trust has £761,724 to repair the stables for community and educational functions.
The money comes jointly from the Welsh government and the Big Lottery Fund.
The grants announced on Thursday are part of the £13m Community Asset Transfer (Cat) programme to help move the ownership of land and buildings from public sector organisations to community ownership.
Plans for restoring 12th Century Cardigan Castle, regarded as the first stone castle built by the Welsh princes, were given the go-head last year after the award of £4.5m European money.
Cadwgan Building Preservation Trust is to use the Cat grant to help save the castle and other buildings on the two-acre site.
Trust chair Jann Tucker said: "This award fires the starting gun for what will be the most important development in the town for centuries. It is great news for the castle and the town."
The Insole Court Trust is aiming to raise funds toward the £5m needed to restore a Grade II listed Victorian mansion in the suburbs of Cardiff.
In addition to helping repair and upgrade the stables for community use, the Cat grant will be used to convert adjacent outbuildings in to a visitors' centre and tea rooms, as well as help restore the gardens.
Trust chairman Sir Norman Lloyd-Edwards said: "It will fund the restoration of the stables, which have been derelict for many years and will create jobs in administration, heritage and catering.
'Real boost'
"The Cat funding is the first, and very important step towards the renewal of this stunning Victorian house and gardens, where we hope to be able to tell the story of the Insole family and their production of Rhondda steam coal."
Other projects to benefit include Neuadd Ogwen in Bethesda, Gwynedd.
Cwmni Tabernacl Cyf has £610,000 towards its £1m plans for a community arts centre in the High Street building, to include a cinema, live theatre and workshop space for dance and music classes.
Secretary Dyfrig Jones said: "Although we still need to raise additional funding, this contribution means that we are now in touching distance of reaching our goal."
An award of award of £777,958 is set to allow the purchase of the historic market hall in Newtown, Powys, so it can be converted to a venue hosting two social enterprises as well as offering short-term leases to small businesses.
Mid Wales Food and Land Trust executive director Catherine Smith said: "In addition to supporting local small businesses, restoration of this Grade II listed building will provide a real boost for town centre regeneration."