Man blinded in eye by gannet on Gower says sight is returning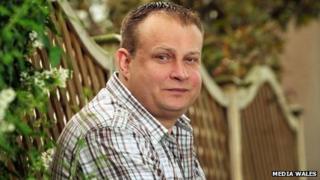 A man blinded in one eye after being attacked by an injured gannet says his sight is coming back.
Michael Buckland, from Cardiff, spent three days in hospital following the attack on a Gower beach last June.
He was told the chances of regaining his sight in his right eye were very slim, but says he can now discern shapes and colours.
Mr Buckland, who worked as a welder, is due to meet specialists on Monday to discuss a corneal transplant.
Last year, he told BBC Wales how he was trying to rescue the injured bird from seaweed when a dog startled it, prompting the gannet to panic and peck through his eyeball.
'Getting better'
Mr Buckland was given 11 stitches across his eyeball which doctors at Singleton Hospital managed to replace and his right eyelid was sewn up.
The eyelid was later reopened, and Mr Buckland said his sight had improved ever since.
"It's gradually getting better," he said.
"I can see an outline of things and different colours. I can see that grass is green but not individual blades.
"If I look through binoculars I can see fine. If I stick a pin through a piece of paper I can see through the pinhole.
"For the first six months I couldn't keep my eyes open for more than three or four minutes at a time, but I feel quite normal now, although accident-wise I still walk into things."
Mr Buckland, now under the care of the University Hospital of Wales in Cardiff, is due to meet specialists on Monday for an update on the prospect of a corneal transplant to further restore his sight.
"I'm looking forward to it - I haven't been back for months," he said.
"Originally they told me a transplant would be done by June but I'm now waiting for a donor."