Shaun Beasley's Parc Prison death partly due to neglect, inquest jury rules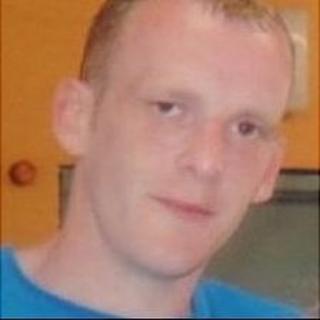 A prisoner took his own life, in part due to neglect by a jail's former healthcare provider, an inquest jury has ruled.
Shaun Beasley, 29, from Surrey was found hanged Bridgend's Parc Prison in 2010 after being transferred for a drug rehabilitation course.
But on arrival, it was unavailable and he later phoned his sister to say he could not cope, the inquest heard.
The prison said he gave no indication he intended to harm himself.
His family, from Epsom, say he had a history of self-harm and are critical of the healthcare system in place at the time of his death in the privately-run jail.
After the verdict, they released a statement saying they had always felt that Shaun "had been let down".
The inquest in Aberdare heard how hours before he hanged himself in his prison cell in August 2010 Mr Beasley had phoned his family saying he could no longer cope.
His sister Donna Ridgley told the inquest how she had phoned the prison to warn them he was in a vulnerable state.
Compensation
Following the verdict the coroner Louise Hunt said she would not make any recommendations as she believed that changes had already taken place that would prevent further deaths in the future.
On hearing the verdict Mr Beasley's sister broke down in tears.
Afterwards, Ms Ridgely said on behalf of the family: "We would like to thank the coroner and the jury for a very thorough investigation.
"We hope that this verdict will help us to move on from this very terrible time in our lives.
"The verdict has confirmed what we have always felt; we have always felt that Shaun had been let down and it is very important to us that there has been public recognition of this."
The healthcare services at Parc were run by a company called PrimeCare at the time of the incident.
Sincere condolences
It no longer looks after healthcare issues at the jail, which has just over 1,000 prisoners.
PrimeCare, and G4S who run the prison have already settled a civil claim with the family and have paid them an undisclosed fee in compensation.
After the inquest, the operations director for PrimeCare, Sarah Campbell, said they had offered Mr Beasley's family their sincere condolences.
"We have carefully reviewed what happened to identify what went wrong and recognise that the care provided to Mr Beasley fell below our high standards," she said.
"As a result we put in place a number of measures to improve safety including better communication systems between healthcare and custody staff, improved recruitment, staffing levels and training, and a focus on better record-keeping."
The director of Parc Prison, Janet Wallsgrove, added: ""The death of Shaun Beasley was a shocking and tragic event and our thoughts and condolences are with his family and friends.
"G4S has been managing prisons for almost 20-years on behalf of the Ministry of Justice and the welfare of those in our custody has always been our key priority.
"Significant changes have been taken place to improve the care given to vulnerable prisoners and those at risk.
"The coroner has confirmed she is satisfied that the changes made since August 2010 were suitable and correct."