Charlotte Church tells TV about Zeta Jones and Britney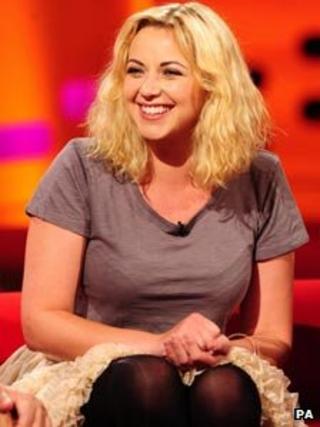 Singer Charlotte Church has told a TV audience how she went drinking with Hollywood star Catherine Zeta-Jones during a golf tournament.
She said actor Michael Douglas was left "fuming" when she and Swansea-born Zeta Jones were "singing and having a great time" after his golf team lost.
Speaking on BBC One's The Graham Norton Show, Church also described meeting Britney Spears when she was 15.
Church told the show she would not let her children go on stage as youngsters.
The singer, who is one of the guests on the Friday evening programme, told the chatshow host that Hollywood star Douglas "wasn't having any of it" when the two women started enjoying themselves.
She said: "He was fuming and went to bed early."
Church also explained her meeting with Britney Spears during a trip to Los Angeles.
She said: "I was at a party and Britney was there.
'So amazing for Britney'
"Her PA came up to me and said, 'Britney is a massive fan and would really like to meet you,' and I was, 'okay, not a problem,' and I went over and Britney just kind of turned and said, 'hi' then turned away and carried on.
"The woman ushered me away and said, 'That was so amazing for Britney, she just loved you."'
Church, who has described to the Leveson Inquiry her ordeal at the hands of certain UK newspapers, told the show that there was "not a cat in hell's chance" she would let her children go on stage as youngsters.