Haverfordwest Tudor trader home opens at St Fagans museum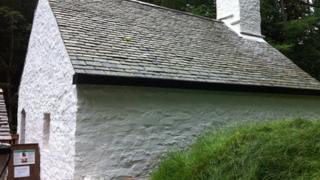 A trader's house from 16th Century Pembrokeshire has been rebuilt piece by piece at St Fagans: National History Museum near Cardiff.
The Tudor building, which included a store for goods, was originally built against a steep wooded bank behind Quay Street in Haverfordwest.
The group of young apprentices who dismantled the small house in the 1980s have reassembled it 30 years on.
It was opened to the public following a ceremony on Monday.
The house would have stored valuable goods such as corn, wool, hides, salt, fish, soap, cheese or casks of wine before they were sold.
Visitors will be welcomed into the house, as re-enactors use traditional skills to cook the first meal on the hearth, since the building's arrival at the museum.
Garderobe
The original trader probably bought and sold goods which were traded in the busy port town.
The family lived upstairs where there was a single room, with an open fireplace at one end. A small croglofft (half-loft) provided sleeping accommodation.
Next to the fireplace was a garderobe (toilet) which discharged into a gutter outside the building.
The vaulted ground floor was used to store what were then valuable goods such as corn, wool, hides and, salt.
Replica items have been used to furnish the house to show how it may have looked at about 1580, by which time goods were being traded to and from Bristol and the west of England as well as along the Welsh coast, Brittany, Ireland, France, Spain, Portugal and north America.
'Wonderful addition'
During the later Elizabethan period, Haverfordwest was a bustling cosmopolitan settlement which was believed to be the second most important trading centre in Wales.
Gerallt Nash, the museum's senior curator, said: "The mysterious medieval building near the quayside at Haverfordwest was dismantled 30 years ago by a team of young apprentices and those same men have reconstructed the house here at St Fagans.
"It is a wonderful addition to the original buildings from different historical periods which have been re-erected here at the museum.
"Visitors can learn more about the historical context of this wonderful building and see how the Tudors managed to navigate the oceans and bring new goods and ideas into Wales from Europe and beyond."
The trader's house is only the second building from Pembrokeshire to have been rebuilt at the museum, following the opening last year of the clogmaker's workshop from Ysgeifiog near Solva.
Sara Hughes, a learning inspector and specialist in the Tudor period, said the building added to the visitor experience.
"It creates quite a nice walk that people can take from a house called Hendre'r-ywydd, built around 1504, incorporating St Teilo's Church, our jewel in the crown, and up to Garreg Fawr farmhouse," she said.
"You can take a Tudor walk now around St Fagans and really get lost in time."