Vinyl, The Alarm's pop hoax film, premieres in Rhyl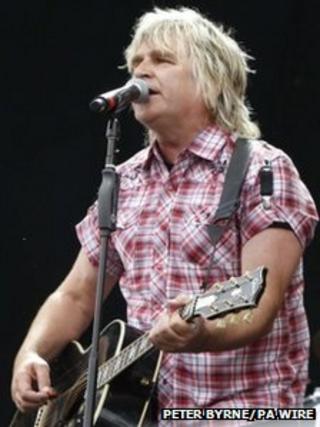 It was the new rock 'n' roll swindle, designed to expose the ageism of the music industry.
By 2004, Mike Peters, frontman of The Alarm, had long suspected he was not getting airplay because DJs only wanted much younger bands.
Now a film describes how he gave them what they wanted.
Vinyl, which tells how he hoaxed the music world with a lip-synching band, has its UK premiere in Rhyl, his Denbighshire home town, this weekend.
The punk rock comedy stars some well known names with strong links to music themselves.
Phil Daniels first found fame in the film of The Who's Quadrophenia, and went on to perform Parklife with Blur, while Swansea-born Keith Allen has had chart success with Fat Les (and is the father of pop star Lily Allen).
The film is based around the events that became a media storm when Peters' hoax was revealed.
Johnny Jones (Daniels) is a "washed-up rocker" frontman of Weapons of Happiness, a hit 80s band he brings together again, but the record company does not want to know.
Sound familiar? Cue lip-synching teenagers.
Feelgood movie
Peters said: "All the members get cajoled in to it. There are tensions as they go about finding the young rock 'n' roll swindlers. I think Malcolm McClaren would be proud of us."
Peters said he was given an unexpected contribution when compiling the soundtrack to the feelgood movie.
A hairdresser from Rhyl had made a recording of him when he was in a band called The Toilets, playing at Eric's in Liverpool in 1977.
As news of the film leaked out, the man came forward with that recording.
Peters said: "It was like part of my life that I had lost that had been brought back to me.
"I was amazed how good they were. No wonder we were supporting The Clash."
The tape inspired Peters to write 20 original songs that fitted the period.
'Punk archaeology'
"As soon as we plugged it in, we were transported back to the sound of 77," he said. "We played as fast as we could, as if we were 18 years old. It was punk archaeology."
Coincidentally, the film's producer and co-writer, actor and director Sara Sugarman, was in the audience at the 1977 gig.
Sugarman, whose directorial credits include Confessions of a Teenage Drama Queen and Very Annie Mary, also grew up in Rhyl, and was part of the punk scene there, starting her own band.
When she was called in to help on the project by the writer, and Alarm fan, Jim Cooper, she had a bombshell for the producers.
She said: "It was absolute coincidence - it just turned out that I was the girl next door on the other side of the world.
"They couldn't believe it when it turned out that not only did I know Mike but he managed my band."
Sugarman said the film was shot "in true punk fashion", in just four weeks with only five actors on contract but lots of community support.
She has included elements of Peters's personal life in Vinyl - he has twice fought off leukaemia while he and wife Jules were undergoing fertility treatment - but not too much because "the audience just wouldn't believe it".
'One-hit wonders'
She added: "Sometimes life is bigger than art.
Vinyl is shot in and around Rhyl, including at the 13th Century Rhuddlan Castle, Snowdon, Dyserth waterfall and Ysbyty Glan Clwyd where Peters had cancer treatment.
The film really shows off north Wales at its best, he said.
"Rhyl has taken a battering in recent times and it's not the place it was but it's still a great place to live and bring up our kids. I live here and I love it."
And as for his 2004 hoax? Peters is unrepentant.
Playing at this year's Isle of Wight festival only reinforced his criticism of the music industry.
"It was littered with one-hit wonder bands, groups that don't get past their first song, never mind the second album.
"People don't listen to albums any more, they listen to songs and then delete them.
"Bands are being deleted before they have a chance to get out of the garage.
"We come from a different time, when people valued music a little more - they come back to us from time to time to be reminded about who they were and who they are now."