Stay Safe Stay Out of Quarries campaign targets young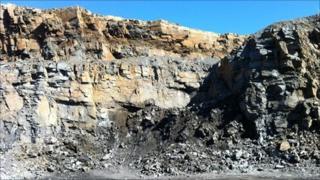 A safety campaign to alert young people across Wales to the dangers of quarries has been launched.
The Stay Safe Stay Out of Quarries campaign coincides with the school summer holidays where children seek "adventure".
It comes after recent deaths at quarries in Ffairfach, Carmarthenshire, and Meliden, Denbighshire.
Luke Somerfield, 14, of Ffairfach, died in June after being pulled from Cilyrychen Quarry, Llandybie.
Supt Pam Kelly, of Dyfed-Powys Police, said the water in quarries could look inviting but the water is extremely cold.
"Quarries are dangerous places, filled with visible and hidden obstacles, deep bodies of very cold water and they are often in hard to reach areas," she said.
"Jumping into the water is also very dangerous as there are rocks, ledges and debris on the quarry floor that can shift and move. Other hazards include falling off ledges and being struck by rockfall."
The quarry industry is also highlighting "irresponsible" adult trespassers who put themselves and others at risk in quarries.
David Harding, of the Mineral Products Association (MPA) in Wales, said such trespassers often left broken fences which were an open invitation for children in search of adventure.
"Their recklessness reaches new levels when they expose children to the dangers of industrial sites they then treat as playgrounds," he said.
A survey by the MPA, which is the trade association for the aggregates, asphalt, cement, concrete, lime, mortar and silica sand industries, shows 38% of sites in Wales had been trespassed in the past year.
Wales has 77 active quarries producing 12.3m tonnes of aggregates.