Cardiff Bus appoints new MD after £90k tribunal fine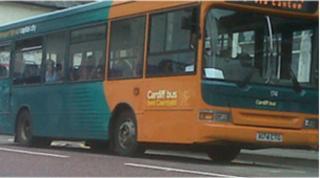 Cardiff Bus has appointed a temporary new head to replace its former managing director who stepped down last week following a damning report on the firm's tactics.
David Brown quit after a tribunal found Cardiff Bus chose to "disregard the law" in its response to a rival firm.
The Competition Appeals Tribunal ordered it to pay £93,000 to the directors of now-defunct 2Travel.
Cardiff Bus finance and admin director Cynthia Ogbonna is made interim MD.
Mr Brown resigned on Friday after 18 years with the firm after the tribunal accused him of lying as part of "outrageous" behaviour by the bus firm to "exclude" a rival outfit.
The tribunal, headed by former MP and ex-Welsh Lib Dem leader Lord Carlile of Berriew, found Cardiff Bus "abused its dominant position" when it set up a no-frills alternative to 2Travel.
It rejected much of Mr Brown's evidence about the introduction of the firm's White Service as "untrue".
It found the firm put up "a deliberate smoke-screen" about why it had brought in the new service in 2004.
The report said: "They were, not to put too fine a point on it, lies. From this conclusion follows the clear inference that Cardiff Bus knew that it was doing something illegal."
The tribunal found Mr Brown and the former MD, Alan Kreppel, were in on the scheme "from the beginning".
The directors of 2Travel had asked for £20m compensation but the tribunal rejected its claim for a "loss of a commercial opportunity".
'Well respected'
It ordered Cardiff Bus to pay the 2Travel £33,818.79 for loss of profits and £60,000 in exemplary damages.
Following the appointment of Ms Ogbonna, Cardiff Bus company chairman, Cardiff councillor Joseph Carter, said the board were working to recruit a permanent managing director.
He said: "Ms Ogbonna has served Cardiff Bus in her current role since September 2004 and is well respected in the transport industry.
"She will make an excellent interim managing director."