Rookwood Hospital nurse told assistants not 'to rush' to revive man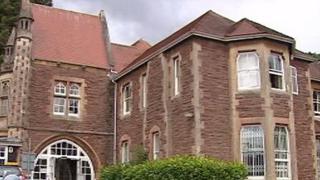 Colleagues of a nurse alleged to have told assistants not to rush to revive a patient if he had a heart attack have said she described the paralysed man as "spoiled", a hearing was told.
Caroline Gervaise-Brazier, 55, of Trecenydd, Caerphilly, is also said to have told a vulnerable man to shut up or she would put him in the car park.
Miss Gervaise-Brazier was working as a staff nurse at Rookwood Hospital in Cardiff at the time of the allegations.
She denies four charges of misconduct.
The hearing had been told Miss Gervaise-Brazier had told colleagues not to rush to resuscitate a man known as Patient A at the start of their night shift.
Giving evidence, Linda Camilleri, who has worked as a nursing auxillary at Rookwood since 1995, said a colleague, Deborah Davies, had done a handover from the day shift to herself, Miss Gervaise-Brazier and another nursing auxillary Hayley Fuller, and told them Patient A had complained of chest pains and needed watching.
Miss Gervaise-Brazier asked if he "was for resuscitation" in the event of a cardiac arrest, and Mrs Davies had replied he was, adding the issue had not been discussed with his wife.
The panel was told she had called Patient A "spoiled" saying he was always asking for drinks, to which Mrs Camilleri had replied: "How can you call him spoiled? He's paralysed."
She told the panel that when Mrs Davies had left, Miss Gervaise-Brazier had said if Patient A went into arrest, "Don't rush, take your time".
Mrs Camilleri told the panel she had responded: "Let that be on your head. I'll do what I have to do."
The hearing was told she worried for Patient A's safety, and went on sick leave the following day with stress brought on by the incident. When she returned, she wrote a letter to the ward manager raising concerns.
'Panicking'
Sian Cutter, representing Miss Gervaise-Brazier, questioned why Mrs Camilleri had done nothing during the two weeks she was on sick leave if she was persuaded Patient A was in danger.
She said: "The truth of the matter is you didn't think he was genuinely in danger."
Mrs Camilleri told the hearing she had overheard alleged comments made to a paralysed man with Parkinson's Disease and learning difficulties known as Patient B by Miss Gervaise-Brazier to shut up or she would call his representatives, put him out in the car park on his own and call the police.
She also said she had heard on another occasion hear Miss Gervaise-Brazier telling Patient B to shut up when he was crying and complaining he could not move his legs, using words to the effect "you cannot move your legs because you are paralysed and will be in a wheelchair for the rest of your life".
Miss Cutter suggested that when Miss Gervaise-Brazier is alleged to have screamed at Patient B and told him he would be in a wheelchair for the rest of his life: "It's right to say that the patient was panicking and Miss Gervaise-Brazier was trying to calm him down and was explaining what had happened."
The panel also heard from Mrs Davies, the deputy ward manager for five years, who has worked at the hospital since 1989.
She said: "I was "shocked" that Miss Gervaise-Brazier should ask about Patient A's resuscitation status as [he] was in his 40s and had a good prognosis."
She also described Patient B's distress as he told her about the alleged incident involving Miss Gervaise-Brazier when she had told him she would phone his representative and the police.
The hearing was told that Miss Gervaise-Brazier had taken out her mobile phone as talked as if she was on the phone, and the patient had understood that to be the case.
Mrs Davies told the panel: "I thought Patient B looked very, very upset and frightened. Patient B said, 'She's coming to come and get me and hurt me'."
Asked if she thought Miss Gervaise-Brazier's comments were acceptable, Mrs Davies replied: "I think that's totally unacceptable. As nurses, we're supposed to be in a caring profession."
Miss Cutter suggested that as Patient B had misunderstood that the phone call had not actually happened, "it's possible he'd misunderstood other parts of what happened".
Miss Gervaise-Brazier is alleged to have told another patient - Patient C- he was "a pervert" when he touched a tube which had become detached from his penis.
The panel heard a claim she told a fourth patient - D - to "shut up, there is nothing wrong with you" when he complained of chest pains.
Miss Gervaise-Brazier denies the charges. She has admitted a charge of removing incontinence sheets from the hospital between September and November 2007 but denies these actions were dishonest.
The hearing was adjourned until Tuesday.