London 2012: Ticket hunter scours Europe to get to Games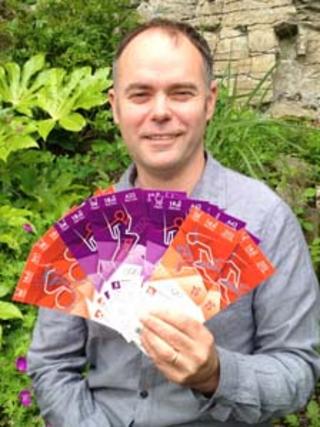 An Olympics fan who spent a year tracking down tickets from across Europe has secured entry to nine events - including some of the biggest.
Iain Barclay, 42, from Chepstow, Monmouthshire, scoured the internet and joined a group of other people on Twitter trying to source tickets.
Among some of the events he and his family plan to attend is the opening ceremony and the athletics 100m final.
He bought tickets from Holland, Denmark, Finland, Germany and France.
As an EU citizen, Mr Barclay is entitled to buy tickets in Europe and was able to get most of his tickets from authorised ticket resellers (ATRs).
He plans to take his wife Kathy, and children Cerys, 13, and Dan, 11, to the Games which start next week.
And they have entry to:
Football at Cardiff's Millennium Stadium
The opening ceremony
The athletics 100m final
400m hurdles final
Cycling finals
Rowing
Diving
Table tennis
BMX
Mr Barclay joined the ticket hunters on Twitter after it seemed getting hold of tickets through Olympics organiser Locog's initial ticket ballot was slim.
He wouldn't say how much he had spent but said it was "the same as a nice week away in the sun".
"The plan was to go to London with family for a week during the Olympics, so I have pretty much filled a week with good sessions," he said.
"Since starting in June last year, I've managed to build a London 2012 holiday of a lifetime.
"I didn't get anything in [the] Locog ballot last year so turned to Twitter searching to see what the general state of play was," Mr Barclay said.
He said he found people who were providing information on foreign sales.
They became known as the 2012tweeps - who also helped world 400m hurdles champion Dai Greene get extra tickets for his family and friends who want to see the Welshman race at the Olympics.
"I then started to jump on the sales and pick up tickets," Mr Barclay added.
"Mostly the sales have been unannounced, so I've had my phone set to beep on news that something was happening with a ticket seller, then had to race to my laptop to get online and grab a chance to buy tickets before they disappeared again.
"I think it has amused my family and friends really, and they will love the rewards."
Increased expenditure
Mr Barclay would not reveal the amount he has spent on tickets but added: "A week's worth of good finals in lots of events is bound to add up, even when you go for the "cheap seats" where possible.
"Buying from ATRs has definitely increased the expenditure in a big way - at least 25% - but has also given me assurance of getting tickets for prime sessions when Locog was looking very bleak.
"I've probably spent the same as a nice week away in the sun, so hope we get good weather in London too."
Mr Barclay admits it has been a little frustrating that tickets have become quite accessible through Locog over the last few weeks.
But he added: "It has allowed me to buy opening ceremony tickets for £20.12 so it's not all bad.
"By buying through the year as I have, I've had peace of mind that we will be able to be at the top events for a good few months, and have also spread the cost through the year.
"Locog's recent sales have enabled me to buy tickets for other family members so that they can come to some of the events with us, which we didn't think would be possible."