London Paralympics: Rachel Morris injured in road crash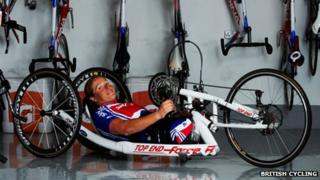 A Welsh Paralympian is battling to be fit for the London games after being injured in a collision with a car.
Rachel Morris, a hand-cyclist who won gold at Beijing in 2008, suffered whiplash and shoulder injuries in the incident during a time trial in Hampshire last Thursday.
Her condition means she takes longer to recover from injury, putting her Paralympic hopes in jeopardy.
"This has totally screwed me up," said Morris, from Milford Haven.
It follows an incident last summer in which Welsh Paralympic cyclist Simon Richardson was seriously hurt in a collision with a vehicle while training near Bridgend.
Morris, who is based in Guildford, Surrey, had been expecting to compete in the London Paralympics in August.
The crash happened on the A31 near Alton, Hampshire.
A record 38-strong contingent from Wales for the Team GB squad was revealed on Tuesday.
"I feel like everything I've worked for has been taken away," she said.
"I can't imagine not being there, but I know how long it has taken me to recover from this type of injury before, and it was longer than I now have before the games."
Morris's condition, reflex sympathetic dystrophy, involves a malfunction of the nervous system and causes extreme pain and sensory abnormalities, which previously resulted in her having her legs amputated.
When she suffers an injury, her body reacts in a damaging way which means it impacts upon her more seriously.
She said: "The bike went up into the air.
"I remember looking across and I was aware that I was at the same height as the passengers in a car passing in the outside lane."
She has been to the GB cycling team's HQ in Manchester to visit team doctor Richard Freeman for an assessment of her shoulder injury.
Her bike will also have to be replaced after one of the wheels was destroyed in the crash.
Gold medal
British Cycling said Morris had been a cornerstone of the GB cycling team's Paralympic squad for a number of years.
She made her Paralympic debut at Beijing, winning a gold medal in the time trial.
More recently, she won gold at the time trial and road race at the 2010 world championships, and bronze in the road race in 2011.
Paralympic gold medal winning cyclist Richardson, from Porthcawl in the Vale of Glamorgan, suffered life threatening injuries in a collision last August.
He was released from hospital in September but faces up to three years recovery.