Breast Test Wales warns of six month screening delays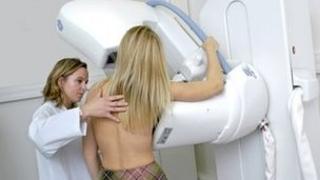 Women eligible for breast screening in Wales are being warned that their appointments may be delayed by up to six months.
Breast Test Wales said upgrades to equipment, which can detect signs of early cancer, meant screening centres and mobile units have had to close.
Women aged between 50 and 70 who live in Wales are normally invited for screening every three years.
Public Health Wales said it should not lead to cancers being missed.
But it reminded women to be vigilant for symptoms of breast cancer between screening appointments.
In 2010, Breast Test Wales - run by Public Health Wales - was awarded £10m of Welsh government funding to upgrade screening equipment at its four static screening centres and 10 mobile screening units across Wales.
The project has replaced old analogue screening equipment with new state-of-the-art digital equipment, but has meant that each centre and mobile unit has had to close for several months while work takes place.
Centres and mobile units in south and south west Wales have already reopened, while work in north Wales is currently under way.
It has caused a backlog of screening across the country.
'Early cancers'
Dr Rosemary Fox, director of the screening division of Public Health Wales, said: "I am extremely sorry that women will see a delay in being invited for breast screening, and apologise to anyone for whom this causes concern or inconvenience.
"The project to replace our equipment has meant that we will now have newer, more sustainable machinery that can be replaced or repaired if it breaks down, whereas our previous equipment was too old to be maintained.
"However, the improvement works have meant closing all of our centres and mobile units for periods of time, and inevitably that has meant that we have been able to screen fewer women.
"Women in Wales can expect their next screening appointment to be delayed by up to six months, but women can expect future appointments to take place every three years as usual."
Dr Fox added: "Breast screening looks for early cancers. However, even when we screen every three years there is the possibility that women can develop cancer in between screening appointments.
"Therefore we would remind women that if they experience any changes in their breasts, regardless of how recently they have been screened, they should see their GP."
Symptoms of breast cancer can include lumps and thickenings in the breast or armpit, changes in the shape or skin texture of the breast, nipple discharge, and pain or discomfort.
Any woman of any age who experiences these symptoms should contact their GP, Public Health Wales added.