'City regions' set for Cardiff and Swansea to boost prospects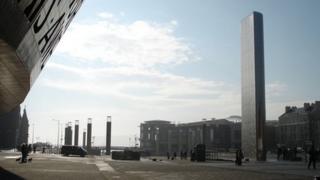 Two "city regions" should be developed around Cardiff and Swansea to boost economic performance, according to a new report.
An expert panel says creating the areas will increase investment and productivity, resulting in wage rises.
Recommendations include a new minister for the city regions and a body to oversee public transport in south east Wales.
Business and community leaders have welcomed the proposals.
The City Regions Final Report was presented to AMs on Wednesday after being commissioned by the Welsh government.
The proposed Swansea Bay city region stretches to Carmarthen as well as, Llanelli, Port Talbot, Neath, Ammanford and Ystradgynlais.
Cardiff city region includes Merthyr Tydfil, Aberdare, Pontypool, Newport, Bridgend and Barry.
An idea of a city region linking north east Wales to Cheshire was rejected.
However, the panel does call for strengthening ties between Deeside in Flintshire and Merseyside to boost job prospects.
The report says research shows cities see the biggest growth in terms of economic development but this has not been seen in Wales.
"Overall Welsh economic performance has clearly been unsatisfactory over a long period," it said.
"In Wales, our cities generate only 33% of our income/wealth which is significantly the lowest proportion on all UK nations and regions."
The report says the Cardiff and Swansea areas were most suitable for city region status because of factors such as the size of population, traffic flows and "community identification".
Carmarthenshire and Neath Port Talbot council leaders welcomed the idea to join forces with Swansea to create a city region for Swansea Bay.
Swansea council said it wants the focus to be developing an "innovative and sustainable economy that taps into its strengths, including stunning outdoor scenery, quality of life and the area's thriving colleges and universities".
It says international research shows economic growth increasingly happens in regions centred on a city and that populations of more than 500,000 attract higher skilled, better paid jobs.
Swansea Bay has a combined population of 667,000.
CBI Wales director Emma Watkins said it was important the Welsh government ensured the city regions added value to existing programmes such as enterprise zones.
The expert panel, including business leaders and academics, said it looked at the success of other European cities such as Manchester and Edinburgh.
It recommends the region around Cardiff looks to Edinburgh as an example of the leadership needed for a small capital city, as well as learning from the experience of Leeds and Vancouver "to defeat parochialism and tribalism".
The panel have made 20 recommendations including commissioning more research to identify skills gaps in the labour market and calls on Welsh government to identify new funding sources.
It says public transport is key, and suggests an executive responsible for transport across south east Wales, while saying electrification of the London to Swansea main railway line is "crucial".
And it calls on the Welsh government and other partners to help the city regions "focus their efforts on identifying and winning relevant large-scale projects with the potential to deliver sustainable economic development".