North east Wales 'city region' rejection disappointment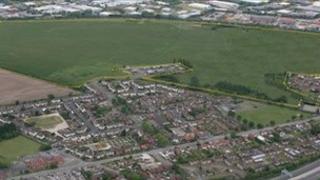 Council officials say they are disappointed north Wales has missed out on proposals to become a new "city region".
Experts say the idea will boost inward investment, jobs and pay in Cardiff and Swansea Bay.
But they rejected the same model for north east Wales in a report commissioned for the Welsh government.
However, the North Wales Economic Forum says similar action is needed to ensure the area "continues to prosper".
"There was a very strong collective view that there needed to be a similar approach in north Wales, both to act as a counter balance to what's now being proposed in south Wales, but also to reflect the realities on the ground," said Dave Heggarty, Flintshire council's head of regeneration.
He was speaking as a member of the North Wales Economic Forum - a group which represents the region's councils, private sector and universities.
The panel of experts has discounted combining north east Wales and west Cheshire, including Chester, as a region hub.
But it has suggested improving ties between Deeside, Flintshire, and Merseyside.
Mr Heggarty told BBC Wales: "We have a very strong economic sub region which happens to have a national border running through the middle of it.
'Cultural connections'
"It's very important that that sub region continues to prosper because it's a driver for the whole economy of north Wales and provides a very large number of jobs for people right across north Wales coast to Anglesey and Gwynedd."
The report says the Cardiff and Swansea areas were only suitable areas for city region status because of factors such as the size of population, traffic flows and "community identification".
It rejected pushing forward city region plans for north east Wales saying it only just reached the minimum population mass needed - 500,000 people, including residents living in west Cheshire.
And it added: "...the appetite for a city region approach was patchy and while the business community in north east Wales has a great deal in common with its counterpart on the English side of the border, social and cultural connections are generally weaker".
CBI Wales, which represents the nation's biggest employers, said work to build the new Deeside enterprise zone was off to a "promising start".
Director Emma Watkins said: "We recognise the decision not to create a city region for north Wales.
"North east Wales has strong economic links with north west England, some action to bolster and support these links, by the Welsh government, is worth exploring."
Ministers are now considering the City Regions Final Report, produced by an expert panel, including business leaders and academics.
It recommends the region around Cardiff looks to Edinburgh as an example of the leadership needed for a small capital city, as well as learning from the experience of Leeds and Vancouver "to defeat parochialism and tribalism".
The panel have made 20 recommendations including commissioning more research to identify skills gaps in the labour market and calls on Welsh government to identify new funding sources.