Nurse Caroline Gervaise-Brazier found guilty of misconduct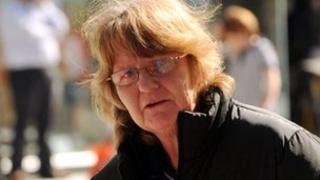 A panel has ruled a nurse's actions in telling a paralysed patient to shut up or she would call his family and put him out in the car park was misconduct.
But Caroline Gervaise-Brazier was cleared of advising colleagues not to rush to revive a patient if needed.
The 55-year-old of Trecenydd, Caerphilly, was cleared of two further misconduct charges, but admitted one of removing sheets from Rookwood Hospital.
The Nursing and Midwifery Council panel will decide if sanctions are needed.
Miss Gervaise-Brazier was dismissed from her job on a spinal unit ward at Rookwood Hospital in Cardiff after the incidents.
During the three-day hearing, the staff nurse argued the words she used in telling two nursing auxiliaries "do not rush, take your time", meant not to rush the procedure rather than not hurry to assist the man, known as Patient A, if he had a heart attack.
The auxiliaries, Linda Camilleri and Hayley Fuller, told the panel they were shocked at what they interpreted was an instruction not to hurry to help the patient, whom they claimed the nurse had previously called spoiled.
The panel found to be proven the allegation that Miss Gervaise-Brazier told Patient B, another paralysed man with learning difficulties who was suffering from severe vomiting in the middle of the night, to "shut up" or she would call his family and put him out in the car park.
The panel cleared her of telling Patient B while he was distressed that he could not move his legs because he was paralysed and would be in a wheelchair for the rest of his life.
They also cleared her of calling Patient C a "pervert" and telling Patient D who had complained of chest pains to "shut up" as there was "nothing wrong" with him.
The panel ruled she had not acted dishonestly in relation to removing the sheets.
Returning the panel's decision on the charges, chair Catherine Duthie said the reasons for the findings would be given at a later date, as would a decision on whether any sanctions would be taken against Miss Gervaise-Brazier.
'Completed a course'
The panel had heard from the nurse's barrister, Sian Cutter, that Miss Gervaise-Brazier had been in continuous employment as a nurse in the four years since losing her position at Rookwood and read a number of references from former employers attesting to her nursing capabilities.
Miss Cutter said Miss Gervaise-Brazier's words towards Patient B about putting him outside had been consistent with a pattern of banter she used with the patient previously which usually made him smile and cheer up but on that occasion did not.
"She did not intend to upset the patient further," she added.
The panel heard Miss Gervaise-Brazier had also recently completed a course on how to deal with difficult patients, which she said showed evidence that the nurse had learned lessons from the events in question.
Mrs Duthie told Miss Gervaise-Brazier she would not make an interim order suspending her from the nursing register until the panel could make a final decision.
"Your current practice does not present a serious risk to the public," she said.
Speaking after the hearing, Miss Gervaise-Brazier said: "It's been stress to the point I have had four years of hell through people trying to discredit me.
"It's been found that apart from a few misunderstood words that I'm totally innocent.
"I'm a good nurse."
The hearing was adjourned to a date to be decided.